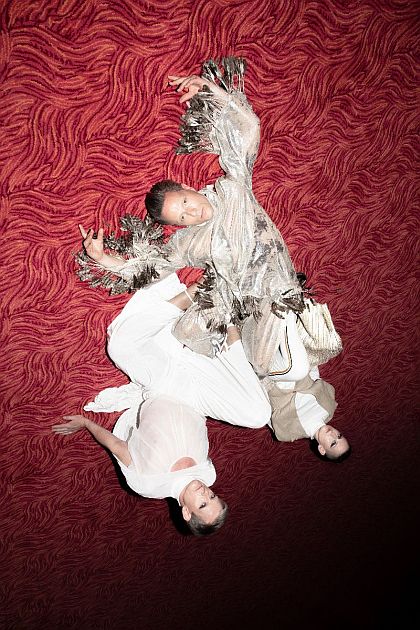 The British Guardian once called GUSGUS "the Icelandic veterans of artsy techno music". That is somehow correct, because after all, the project around Daníel Ágúst Haraldsson and Birgir Þórarinsson has been around for more than a quarter of a century. But we still advocate GUSGUS more like pioneers than veterans. The duo has always set fresh impulses and first confused their fans with new sounds, then thrilled them. They played "artsy Techno" as well as melancholic House, euphoric Trip-Hop and subtle Pop - or sometimes altogether.
Attention: Dur to the Corona pandemic, the tour is postponed to 2022. Tickets remain valid!
GUSGUS always have a good hand when choosing their companions and guest voices. For example, Emilíana Torrini, once a GUSGUS member, or John Grant were both a friend and a voice. Margrét Rán von VÖK can be heard on her recently released album 'Mobile Home' - a perfect match, as the song 'Higher', for example, should prove.
After the streamed release show from Iceland, which already gave a good foretaste of how good these songs sound live, there will finally be the opportunity to see GUSGUS at a "real concert" at the end of the year. Which is always a little more with them than is just a "normal" concert, because GUSGUS originally came from the Icelandic film scene and have always been at the forefront when it comes to accompanying their multi-faceted music in a visually stunning way.
Tour dates

April 12, 2022 Munich - Technikum (original date Nov 28, 2021)
April 26, 2022 Cologne - Die Kantine (original date Nov 26, 2021 at the Gloria Theater)
April 27, 2022 Berlin - Betonhalle, silent green (original date June 25, 2021)
April 29, 2022 Hamburg - Mojo Club (original date June 24, 2021)
Tickets are now available for 26 euros (plus fees) on tickets.de.
More information: www.gusgus.com / www.facebook.com/gusgus