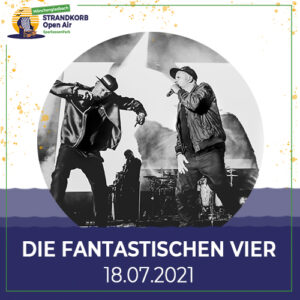 SparkassenPark, Mönchengladbach, Germany
18th & 19 of July 2021
Die Fantastischen Vier - Strandkorb Open Air

This Summer starts the second season of concerts in the SparkassenPark in Mönchengladbach. At this extraordinary location the audience can listen to the artists from their beach chairs. 450 of them are placed at a certain distance to ensure that the hygiene rules to contain the pandemic are compiled and concerts are also possible in these times.
On the 18th and the 19th of July 2021, Germany's most successful Hip-Hop act comes to Hockeypark Mönchengladbach. DIE FANTASTISCHEN VIER, that's four me, who got together more than 30 years ago to teach German Hip-Hop to the world. The three performers Smudo, Thomas D. and Michi Beck as well as DJ And.Ypsilon started their career in Stuttgart / Germany. In 1992 followed the first number 1 hit 'Die da!'. In the coming years the "FANTA 4" published 10 albums, collaborated with a Metal band to make some Hip-Hop / Metal crossover, were busy with some solo-projects and gave their voices to characters in movies ('Madagaskar'). Even though the boys are preparing for their 30th anniversary tour, they will come to Mönchengladbach for two concerts in July. Who wants to see and hear the best German Hip-Hop act should be fast and order some tickets for the shows in Mönchengladbach quickly.
Additional Concert Info

Doors: 18:30
Start: 20:15
Tickets: 75 € via https://shop.derticketservice.de &
http://bit.ly/Eventim_tickets
Info & FAQ: https://sparkassenpark.de/faq-strandkorb/
Address: Am Hockeypark 1, 41179 Mönchengladbach
When parking, please note the additional information on your ticket and the guidance systems.
See also (all categories):