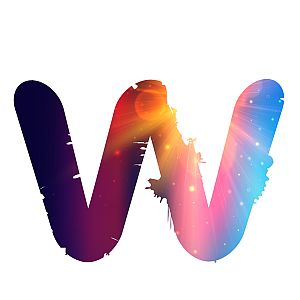 Klein Strand, Oostende, Belgium
25th to 29th August 2021
W-Fest 2021 with Nena, Howard Jones, A Flock Of Seagulls, The Art Of What?!, Marc Almond, The Human League, Paul Young, Midge Ure, ABC, Heaven 17, OMD, Visage 1980 - 2021, Queen Symphonic, D:uel, The Jacksons, Starship, Wet Wet Wet, The Christians, T-Pau and many more

The previous editions of W-Fest were taking place in August. Two years ago, the festival moved to the Expo in Waregem, an indoor venue, also taking place in August. Last year's festival was planned for May for Waregem. Due to the Corona pandemic, plans have changed and now, the festival is announced for a very new location for August: the Klein Strand ("Small Beach") in Oostende.
The festival once more offers a fabulous line-up. Fancy four days of sun, sea and the best music of the 80s and 90s. You should get your tickets for the W-festival, 25th-29th August, 2021 Ostend Beach, Belgium. Start packing! There will be some special performances during the festival. One of them is surely the OMD show. Andy McCluskey is pushed to pick his highlights from the 40 years of ORCHESTRAL MANOEUVRES IN THE DARK (OMD): there have been so many. ORCHESTRAL MANOEUVRES IN THE DARK (OMD), the Synth-Pop duo from Wirral, England, pioneered their genre combining massive chart success with experimentation on albums such as 'Organisation'(1980), 'Architecture and Morality' (1981) and 'Dazzle Ships' (1983). Hits such as 'Enola Gay', 'Maid of Orleans' and 'Souvenir' propelled them into the stratosphere and helped shape the musical landscape of the eighties. OMD re-united in 2007 and have been playing sold out concerts to critical and fan acclaim ever since. Their latest studio album "The Punishment of Luxury" shows the band to be one of the few of their generation still able to create music that inspires. OMD's festival set is full of energy and loaded with their hits, so bring your dancing shoes!
The W-fest performance of another mythic band, VISAGE, will celebrate their 40th anniversary as well. Founding member Rusty Egan and FADE TO GREY (& Gary Numan Keyboardist) Chris Payne have joined forces to celebrate this momentous occasion. Midge Ure and Rusty Egan deliberated for months on who could take on guitar and lead vocals in a 4-man line up, not a lead singer band line up but a performance of the music of early VISAGE. Rusty: "In 1980 Steve Strange was the chosen VISAGE [the face] and we would be the music. VISAGE 1980 - 2020 is all about the music and we found just the man for the job". Now it's going to be very non-stop electronic synth pop 80s sound & vision. VISAGE promises a show which will feast your eyes and ears. Await an audio-visual show which will last in your memories for decades to come! A must see, once in a lifetime experience!
Line-up

All info and the (almost) finalized program can be found on the festival website (https://w-festival.com/en). Below you will find all acts per day:
Thursday - August 26, 2021

Nena 22:45-24:00
Howard Jones 21:10-22:10
A Flock Of Seagulls 19:50-20:40
The Art Of What?! (Art Of Noise Co-Founders Jeczalik & Langan) 18:35-19:20
Marc Almond (Afternoon Headliner) 17:15-18:05
Toploader 15:45-16:45
Roachford 14:30-15:15
East 17 13:10-14:00
t.b.a 12:00-12:45
Friday - August 27, 2021

The Human League 22:30-23:50
Paul Young 21:00-22:00
Midge Ure 19:35-20:25
ABC 17:45-18:35
Ronan Keating (Afternoon Headliner) 16:15-17:15
Roland Gift 14:45-15:30
Matt Bianco 13:15-14:00
Big Country 12:00-12:45
Saturday - August 28, 2021

OMD 22:30-23:50
Rusty Egan Presents Visage 1980 – 2021 20:30-22:00
Queen Symphonic 19:00-20:00
D:uel 17:00-18:00
Johnny Hates Jazz 15:30-16:15
Kissing The Pink 14:15-15:00
Kosheen 13:00-13:45
Lene Lovich Band 11:30-12:15
Sunday - August 29, 2021

The Jacksons 23:00-00:20
Starship 21:30-22:30
Wet Wet Wet 20:00-21:00
The Christians 17:45-18:45
T-Pau 16:20-17:10
The House Of Love 15:00-15:50
Snap! & Technotronic 13:30-14:30
Dr & The Medics 12:00-12:45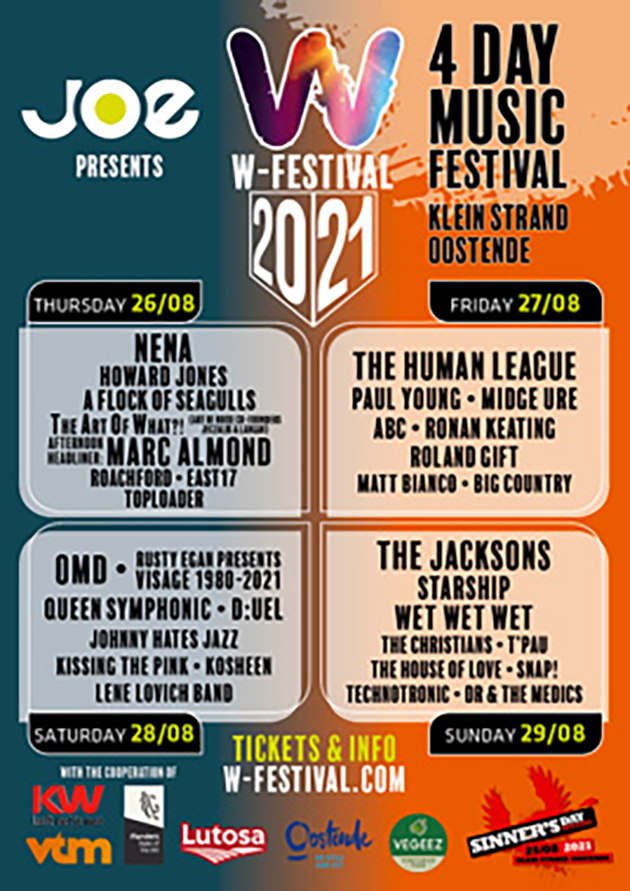 Additional Information

Location

W-Fest is taking place at the Klein Strand in Ooastende, Belgium, directly at the beach!
Tickets

€70 W-festival Day Ticket
€130 W-festival 2-Day Ticket
€220 W-festival Full Festival Ticket
€280 W-festival + Sinner's Day Special 5-Day Ticket (coming soon!)
several special ticket packages available as well
https://w-festival.com/en/ticketinfo
Camping, accommodation & transportation

The 2021 W-festival campsite is hosted by the professional campsite 'Klein Strand' in Jabbeke (16 km away from the festival with shuttle). This experienced campsite will provide all the comfort you need, such as electricity, water connection, permanent sanitary facilities and showers. Furthermore, you'll have access to the bar, breakfast-restaurant, Chinese restaurant and swimming lake. W-festival campsite ticket is included a shuttle service (25 min drive). More: https://w-festival.com/en/stay-overnight
All additional information, especially about Corona regulations, can be found here: https://w-festival.com/en/practical
Sinner's Day special 25th August 2021

One day before the W-Fest, there will be a special edition of Sinner's Day taking play. It offers a lot of artists from now and past.
Line-up

The Neon Judgement 23:10-00:30
Front 242 21:45-22:45
VNV Nation 20:15-21:15
The Young Gods 18:45-19:45
Linea Aspera 17:15-18:05
The Names 15:45-16:35
The Obscure 14:30-15:15
The Danse Society 13:15-14:00
Starcontrol 12:00-12:45
Pesch 11:00-11:30
Website & Social Media

https://w-festival.com/
https://www.facebook.com/WFESTIVAL.OFFICIAL
https://twitter.com/Wfest_official_
https://www.instagram.com/wfestival.official/