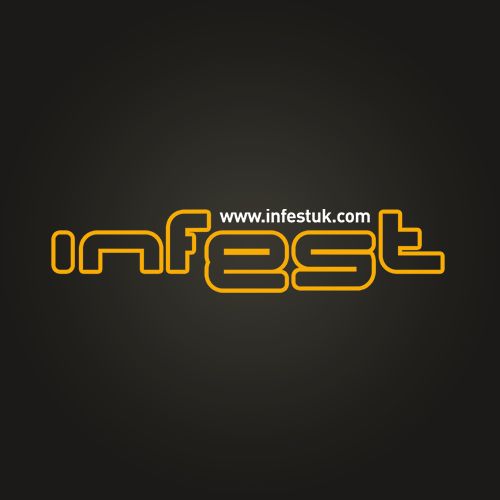 Student Union in Bradford University, Bradford, UK
28th August 2021
Infest 2021 with several UK bands, artists and DJ's to be announced shortly

Of course, like many other events in 2021 this festival is like no other in the long history of Infest. We are all hoping for 2022 to return to some kind of normality, but in the meantime Covid hesitancy and Covid logistic issues dictates that a radical approach is required from festival organisers. The team at Infest have come up with a perfect solution to keep the festival alive and kicking during the pandemic. This edition of Infest will be a twelve-hour celebration of Dark Electronic and Gothic music, almost guaranteed to be all UK based bands and artists. It will have a socially distanced seated crowd but will also be live streamed on two channels.
Details will be fully announced shortly, but we can tell you it will start at 12 noon on Saturday the 28th August 2021, for a full exciting twelve hours. You will need to register your interest in attending live at Bradford University (home of Infest). This is the link:
https://infestuk.com/2021/08/02/infest-2021-stay-in-fest-live-from-bradford-latest-news
Tickets to attend live will be limited. When registering your interest, you will need to agree to Covid protocol and will also have the opportunity to book a room for the overnight stay in the University Halls of Residence. Covid protocol is likely to include taking a Lateral Flow Test before entering the venue, temperature checks, seated at tables, masks if moving around the venue and logging into the NHS Track and Trace app on entering the venue. Obviously, this will be a very different vibe from a typical Infest, but it is of course a step up from last year's event. A stepping stone to what will hopefully be a return to a full weekend event in 2022. What's not to love about full food and drink table service anyway?!
Of course, more details will be released in the next few days on the live stream too. But we can tell you that there will be two channels to keep you occupied at home. On one channel there will be a mix of fantastic UK acts live on stage, and live streamed or pre-recorded special sets from artists around the globe. On the second channel there will be a selection of the finest DJs, to keep everybody entertained throughout the day, plus exclusive interviews and videos.
It looks to be a fantastic day, a very brave, challenging (for the organisers) and innovative approach from Infest. There will be a lot of work behind the scenes to make it happen, massive amounts of work already done and believe it or not proceeds will be donated to charity. Admirable indeed.
Watch this space for future announcements.