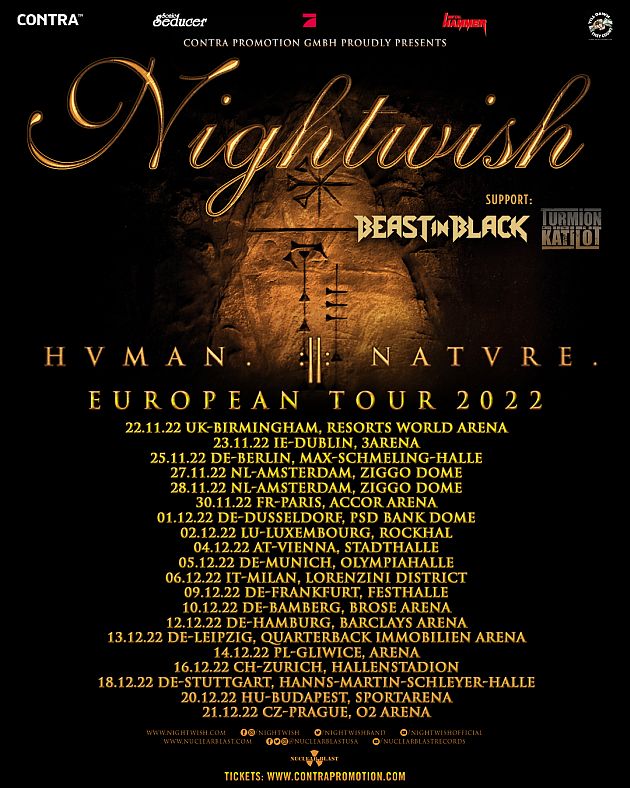 Rockhal, Esch sur Alzette, Luxembourg
2nd December 2022
Nightwish - HUMAN.:||:NATURE European Tour 2022 - Support: Beast in Black, Turmion Kätilöt

Attention: due to the Corona pandemic, the show is portponed from November 2021 to December 2022. Tickets remain valid!
NIGHTWISH are returning to their fans for their European Tour. The band will present their new studio album 'HUMAN.:||:NATURE' and maintain their reputation as one of the best live bands in metal music. Being known for unique stage designs and pyro effects, Finnish symphonic metal heroes NIGHTWISH promise to take their audience on a spectacular audio-visual journey once again
Finnish metal legends AMORPHIS will be special guests on the tour, the billing will be completed by industrial band TURMION KÄTILÖT.
Additional Concert Info

Doors: 18.00
Start: 19.00
Tickets & Info: https://www.atelier.lu/shows/nightwish-3/
Facebook Event:
https://www.facebook.com/events/2399985670215090