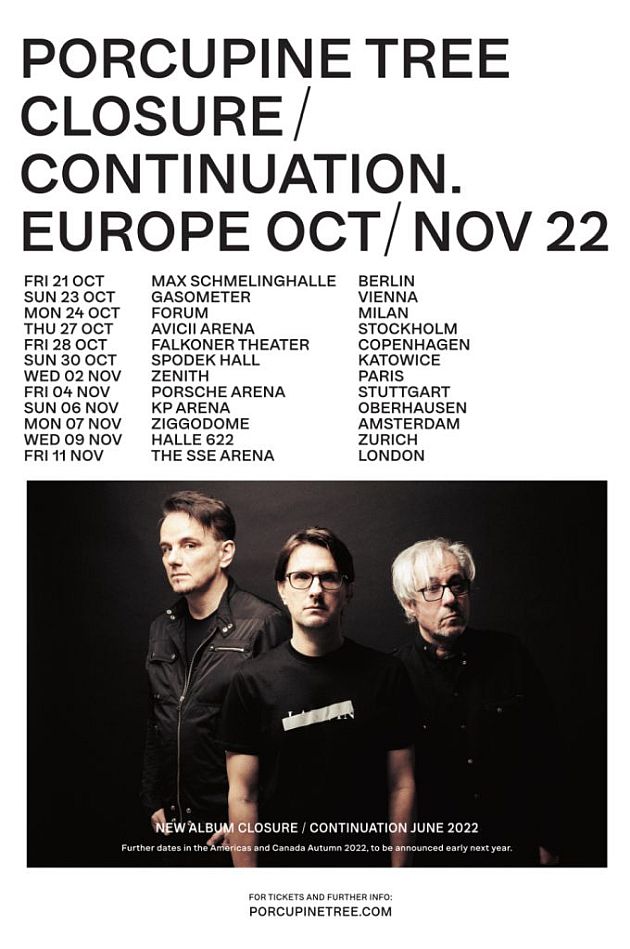 You can safely call this a sensation: after twelve years, the new album 'Closure / Continuation' by PORCUPINE TREE will be released in June. The first track is already available on all major streaming platforms. 'Harridan' makes it easy to re-enter the world and the sound of the British. The eight-minute trip sums up a lot that defines PORCUPINE TREE and their music that transcends all borders - but of course not everything. Because how should the enormous wealth of ideas of guitarist and singer Steven Wilson, keyboardist Richard Barbieri and drummer Gavin Harrison be fully developed in just one piece?
Founded in 1987 as a solo side project by Wilson, the band has been one of the most influential and creative projects since the early 90s. Album for album - there have been ten in total so far - they explored a tremendous world of sound. Defined somewhat helplessly as Prog Rock, the work cannot be squeezed into a genre name. PORCUPINE TREE has experimented with Psychedelic Rock as well as with electronic soundscapes, with experimental Pop as well as with Classical or Metal influences. On their later records they combined all of this effortlessly and homogeneously and created a musical universe around them.
Anyone who thinks that 'Closure / Continuation' is a new beginning or a reunion is mistaken. The guys have been working on the record since 2010. There was always a steadily growing file on the computer with the name PT2012 (later renamed PT 2015 and PT2018 etc.). Every now and then it was forgotten - after all, Wilson already has enough to do as a solo artist, multi-instrumentalist, composer, arranger, lyricist, producer, remixer, restorer and label owner. Then again it gnawed at the musicians involved and asked them to carry on and see where the whole thing was going. Because it turned out early on:
What was created there was not comparable with the other work of the individual members. This material was pure, unmistakable, undeniable and unadulterated PORCUPINE TREE - the combined musical DNA of the people who are behind this sound and this art. That can already be heard in 'Harridan', and how much more so in the pieces that we can already look forward to. Of course, PORCUPINE TREE come on tour with the new material, because on stage the music begins to bloom, to proliferate and to shine in new colours. In the fall, the British are going on an extensive trip to Europe and are coming to Germany for three concerts.
"Closure/Continuation" Tour Germany 2022

Oct 21, 2022 Berlin - Max-Schmeling-Halle
Nov 4, 2022 Stuttgart - Porsche Arena
Nov 6, 2022 Oberhausen - König-Pilsener-Arena
Tickets for the concerts will be available exclusively from
Eventim
from Thursday, November 4th, 11 a.m. From Friday, November 5th, 11 am, tickets will be available from 50.00 plus fees at all known CTS VVK points and on the hotline +49 (0)1806 - 853653 (€ 0.20 / call from a landline, max. € 0.60 / call), on fkpscorpio.com and eventim.de.