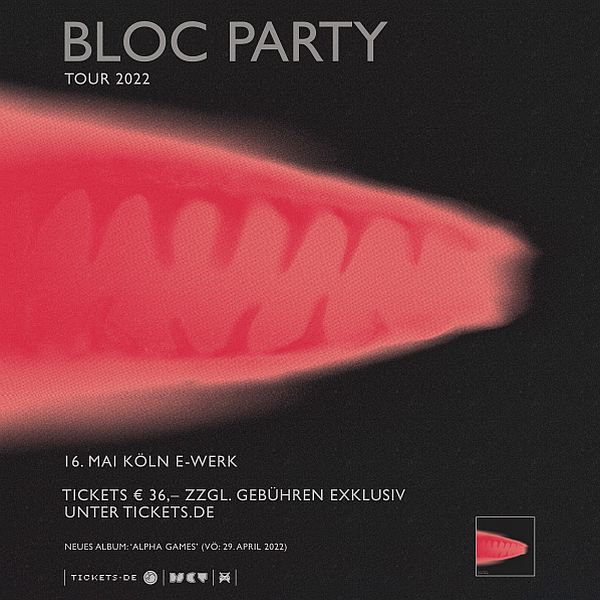 E-Werk, Cologne, Germany
16th May 2022
Bloc Party

We don't yet know what the new album 'Alpha Games' from BLOC PARTY, which will be released at the end of April, sounds like. But if you take the preliminary single 'Traps' as a starting point, it seems clear: the British are back in the mood for the wild, noisy guitar rock of the early stages. The track is exactly the hyper-dynamic Post-Punk outbreak that hardcore fans from the very beginning had been hoping for since the new record was announced.
Front man Kele Okereke emphasizes this: "From the moment we started working on it, it was clear to us that 'Traps' had to be the first notes people would hear from this album. Especially when we played the piece at our last concerts and at the sound checks and heard what it sounds like in the venues and at open airs." Comparisons to the over-hits of their debut such as 'Banquet' or 'Helicopter', which everyone in the clubs in the mid-noughties poured onto the dance floor, are welcome. Nevertheless, the sound of 'Traps' is definitely more modern and is based on over 15 years of experience on the big stages of the world.
Stylistically, BLOC PARTY went through a lot of changes during this time. But the dynamics of the charismatic front man Okereke on stage have always remained the same, together with the full throttle live sound of the band. And that's exactly what we're looking forward to when BLOC PARTY play two concerts in Germany in May 2022:
May 15, 2022 Berlin – Tempodrom
May 16, 2022 Cologne - E-Werk
Additional Concert Info

Doors: 18:30
Start: 20:00
Tickets: Tickets are available exclusively and personalized on tickets.de from Friday, November 26th from 10 a.m. for € 36 (plus fees).
Info: https://www.concertteam.de/event.php?i=1811&x=1637743665