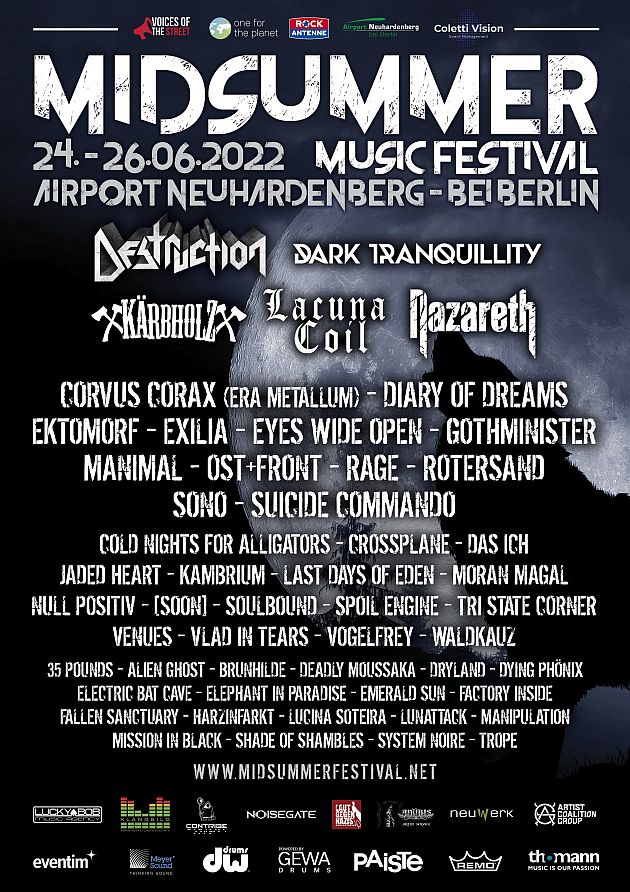 The Festival is cancelled!
Neuhardenberg Airport near Berlin, Neuhardenberg, Germany
24th to 26th June 2022
Midsummer Music Festival with Destruction, Dark Tranquillity, Kärbholz, Lacuna Coil, Nazareth, Diary of Dreams, Corvus Corax, Exilia, Gothminister, Rotersand, Sono, Suicide Commando and many more…

A new international music festival is taking place in East Berlin - VOICES OF THE STREET and COLETTI VISION, together with many partners, are bringing 52 international Rock, Metal and Electronic acts to Neuhardenberg Airport near Berlin. For the first edition of the MIDSUMMER MUSIC FESTIVAL from June 24 to 26, 2022, DESTRUCTION, DARK TRANQUILITY, KÄRBHOLZ and NAZARETH enter the Metal Stage, and LACUNA COIL, EXILIA and DIARY OF DREAMS will headline a total of 52 announced acts. With the new festival, the organizers are pursuing the vision of presenting influential and innovative names from the Rock, Metal and Electronic scene in an unforgettable atmosphere in eastern Brandenburg.
With a diverse and exciting line-up as well as other programmatic surprises, such as a reading by authors, COLETTI VISION, VOICES OF THE STREET and their partners would like to finally bring many people together again in front of the stage through music after a long time without live culture. "We are very happy to make this special festival format in East Brandenburg possible together with our partners," comments Klaus Linke, from VOICES OF THE STREET. "Our guests can expect an event that finally combines top international acts with an extraordinary open-air experience in East Brandenburg again," adds Daniel Tzschentke from COLETTI VISION.
With NAZARETH, DARK TRANQUILITY, DESTRUCTION and KÄRBHOLZ, four legendary Rock & Metal formations have been confirmed for the first edition of the MIDSUMMER MUSIC FESTIVAL on the Metal Stage, on the Dark Stage we look forward to LACUNA COIL, EXILIA and DIARY OF DREAMS, heroes of the Dark Metal and Electro scene. But the "second row" also has it all. Bands like CORVUS CORAX (Era Metallum), EKTOMORF, EYES WIDE OPEN, RAGE, GOTHMINISTER, MANIMAL, OST+FRONT, ROTERSAND, SONO and SUICIDE COMMANDO have headliner qualities themselves and are already looking forward to seeing you and this unforgettable event. In addition, 34 other top-class names have been confirmed so far - delivering a wide range of styles of Rock, Metal & Electronic music: COLD NIGHTS FOR ALLIGATORS, CROSSPLANE, DAS ICH, JADED HEART, KAMBRIUM, MORAN MAGAL, LAST DAYS OF EDEN, NULL POSITIV, [soon] SOULBOUND, SPOIL ENGINE, TRI STATE CORNER, VENUES, VLAD IN TEARS, VOGELFREY, WALDKAUZ as well as 35 POUNDS, ALIEN GHOST, BRUNHILDE, DEADLY MOUSSAKA, DRYLAND, DYING PHÖNIX, ELECTRIC BAT CAVE, ELEPHANT IN PARADISE, EMERALD SUN, FACTORY INSIDE, FALLEN SANCTUARY, HARZINFARKT, LUCINA SOTEIRA, LUNATTACK, MANIPULATION, MISSION IN BLACK, SHADE OF SHAMBLES, SYSTEM NOIRE and TROPE.
On Friday and Saturday there will be readings by Markus Heitz, Madeleine Puljic, Michael Peinkofer and Stefanie Hasse in cooperation with the Droemer Knaur Verlagsgruppe. There will also be a campsite directly adjacent to the site, where visitors can meet comfortably before and after the festival and, if necessary, also get a nap. There will also be the opportunity to have breakfast here - the campsite is closed from Thursday, 23.6. - Monday 27.6. opened. In addition to watches, jewellery, merch, clothes and other useful things, the site itself will have a variety of culinary offerings. We can already announce the first highlight with the barbecue specialists from Rost & Rauch, who this time will be offering not only their popular barbecue specialties but also a completely vegan barbecue experience. In addition, Kaffeerösterei Bienert, Jacky's Hanfhaus, Rock'n'roll Catering, Kartoffelhaus, Tierisches Mittelalter Asinarius, Zaremba's Knobi Baguettes, Urs Mittelalter Bäckerei and Metbutze are represented. More to come soon.
Tickets for EUR 105.00 plus fees (children up to 12 years free), EUR 125.00 with camping are available at www.midsummerfestival.net/tickets. More information about the festival is available at www.midsummerfestival.net. Tickets for camping are available from January 1st, 2022. 1.00 EUR from every ticket sold goes to ONE FOR THE PLANET to support initiatives against racism, against environmental destruction and for social justice.