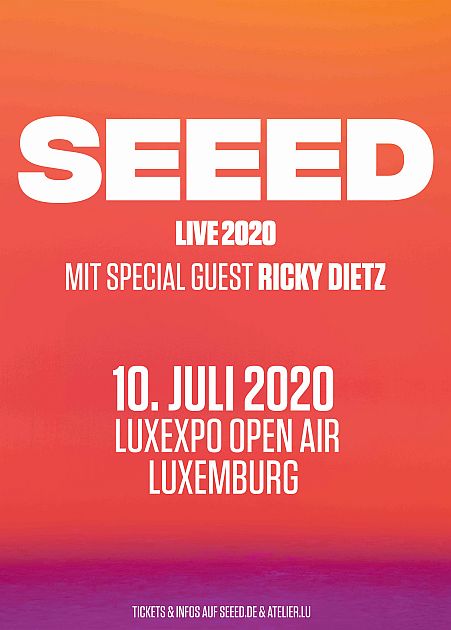 Luxexpo Open Air, Luxembourg-Kirchberg, Luxembourg
17th July 2022
Seeed - "Open Air 2022" - Support: Ricky Dietz

Unfortunately, SEEED's open-air concert, originally scheduled for 10th July 2020 (and then on 18th July 2021) at the Luxexpo grounds, has had to be rescheduled due to the ongoing global Covid 19 pandemic. An alternative date together with the band, the agency and the Luxexpo team is found with the 17th July 2022. All tickets remain valid for the new date and do not need to be exchanged.
After selling out their October 2019 show in less than a week AND one and a half year in advance, A-Promotions is thrilled to announce the return of SEEED for an exclusive open-air show. And the agency is even more thrilled to announce that they've teamed up with the Luxexpo to introduce to you a brand-new open-air stage for the show of the German reggae/dancehall mega stars: Luxexpo open air.
A-Promotions previously promoted concerts at Luxexpo The Box, which resulted in a strong partnership between both our teams. The demand for new open-air venues increased over the past years and A-Promotions is proud to have found a reliable partner for this new adventure! The open-air ground located right outside Luxexpo in Luxembourg-City is perfectly connected to public transport system as well as to the motorway and offers a variety of car parks in walking distance.
SEEED have been performing fulminant shows before at den Atelier, Rockhal and at the Rock-A-Field Festival. The gang of 13 enjoyed performing in the Grand Duchy and the reaction of the public towards their shows has been overwhelmingly positive.
Additional Concert Info

Doors: 17:30
Start: 19:00
Tickets & Information: https://www.atelier.lu/shows/seeed-4/