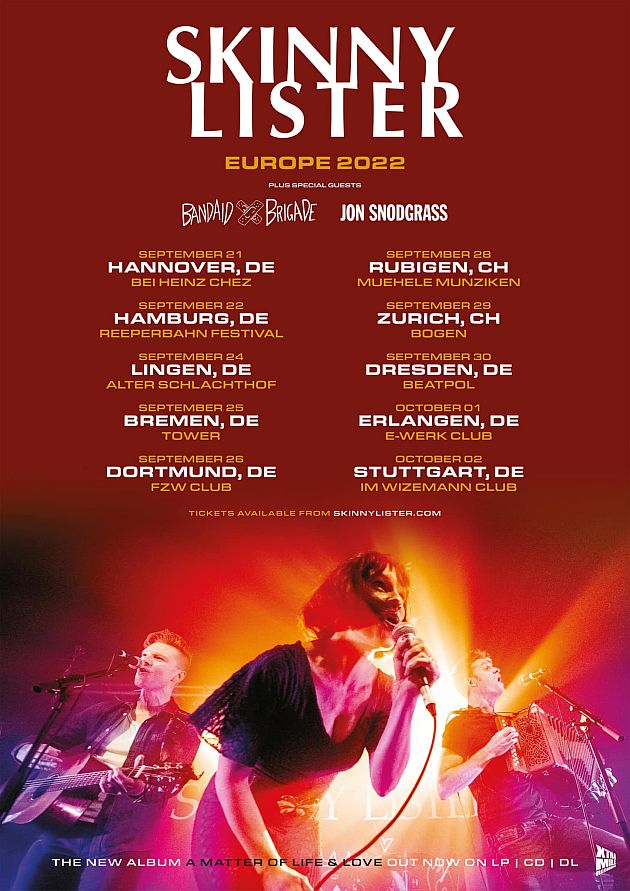 FZW Club, Dortmund, Germany
26th September 2022
Skinny Lister - Europe 2022

SKINNY LISTER are probably considered the rowdiest pack in British Folk Rock. At any rate, the sextet from London has been praised by critics and celebrated by fans with this designation for 12 years now. Since then, SKINNY LISTER have worn this title with dignity and defended it musically with their punky Folk Rock on every release.
With each of their now five studio albums - 'Forge & Flagon' (2012), 'Down On Deptford Broadway' (2014), 'The Devil, The Heart And The Fight' (2016), 'The Story is...' (2019) and most recently 'A Matter Of Life And Love' (2021) - SKINNY LISTER led a rollicking parade, joined by fans of the first hour as well as those who have just discovered folk-punk for themselves. With their music, the Brits unite solid folk fans, pogo-dancing punk rockers and hard-drinking friends of Celtic culture into a unique celebratory community with whom they throw big parties at their concerts.
Every concert hall is transformed into a full pub. In recent years, SKINNY LISTER have been able to learn from FRANK TURNER, the DROPKICK MURPHYS and FLOGGING MOLLY, among others, with whom the band has toured. In addition, SKINNY LISTER played as headliners at numerous festivals and gained a bigger and bigger audience each time. After SKINNY LISTER played four concerts in Cologne, Munich, Berlin and Hamburg in June, the band has announced further concerts for September and October this year to celebrate another big folk-punk party in this country.
German Tour Dates

21 Sep 2022 - Hanover / Bei Heinz Chez
22 Sep 2022 - Hamburg / Reeperbahn Festival
24 Sep 2022 - Lingen / Alter Schlachthof
25 Sep 2022 - Bremen / Tower
26 Sep 2022 - Dortmund / FZW Club
30 Sep 2022 - Dresden / Beatpol
01 Oct 2022 - Erlangen / E-Werk Club
02 Oct 2022 - Stuttgart / Wizemann Club
Additional Concert Info

Doors: 19:00
Start: 20:00
Tickets: 24.90 € (+ charges/shipping) via
Eventim
Info: https://prime-entertainment.de/veranstaltung/skinny-lister-2/