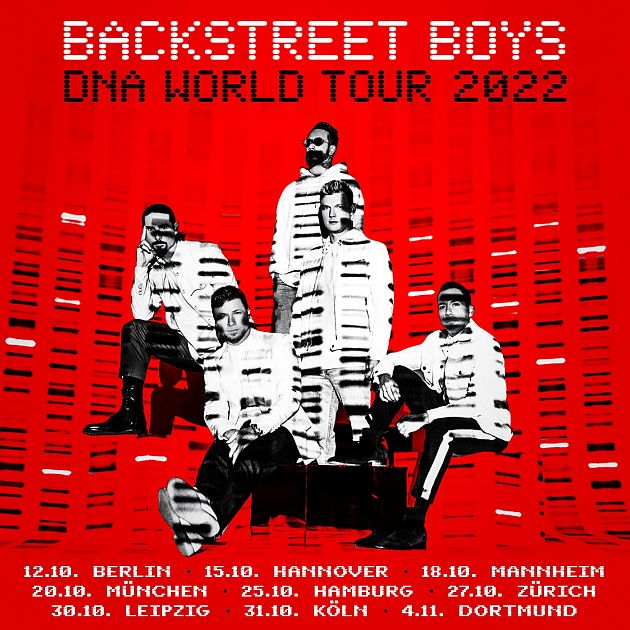 Westfalenhalle, Dortmund, Germany
4th November 2022
Backstreet Boys - "DNA World Tour" 2022

The BACKSTREET BOYS, one of the most successful bands of all time, announced the dates for the autumn "DNA World Tour" 2022 in the UK and Europe. The BACKSTREET BOYS will play nine concerts in Germany and come to Switzerland for one concert. The band last toured Europe in 2019, captivating audiences of more than 350,000 fans. The "DNA World Tour", produced by Live Nation, kicked off on the Las Vegas Strip with four concerts in the Coliseum at Caesars Palace on April 8th, 9th, 15th and 16th.
To help those who have had to flee their homeland of Ukraine and to support the extraordinary examples of solidarity around the world, the BACKSTREET BOYS will donate a portion of the ticket sales from their "DNA World Tour" 2022 to the UNHCR, the UN Refugee Agency. This contribution serves to protect and support refugees and displaced persons from Ukraine and neighbouring countries. To find out how you can support victims, please visit the UNHCR website: https://donate.unhcr.org/int/en/ukraine-emergency-live-nation-ctg
The band also released the first episode of their new documentary series, 'Making of The DNA Tour', which gives fans an up-close look at the preparations for this highly anticipated world tour. More episodes will be released on the BACKSTREET BOYS' YouTube channel.
The BACKSTREET BOYS have been a guarantee for the finest Pop music for 29 years, making them one of the most influential bands in pop history. With countless number 1 hits, record-breaking tours, various awards and worldwide sales of over 130 million records, the BACKSTREET BOYS are considered the most commercially successful boy band in history.
In early 2019, the BACKSTREET BOYS released their 10th studio album, 'DNA', on RCA Records, which was nominated for a GRAMMY. The album with the top 10 hit 'Don't Go Breaking My Heart' went straight to number 1 on the charts. The critically acclaimed and chart-topping single received a 2019 GRAMMY nomination in the category "Pop Duo / Group Performance" and was the BACKSTREET BOYS' first hit on Billboard in 10 years Hot 100. Upon release, the single went straight to number 1 on the iTunes Top Songs and Global charts and charted in over 22 countries.
In May 2019, the BACKSTREET BOYS embarked on "The DNA World Tour" - the group's biggest arena tour in 18 years thanks to the worldwide success of their new #1 album. With the "DNA World Tour", the group has sold out arenas across North America, Europe, Asia and South America. Over the years, the BACKSTREET BOYS have captivated millions of people with their impressive array of hit hits and creative partnerships.
Additional Concert Info

Doors: tba
Start: 20:00
Tickets: are currently not available, other shows:
https://tidd.ly/3Rstkx2
Info: https://bit.ly/DNA_tour_Dortmund