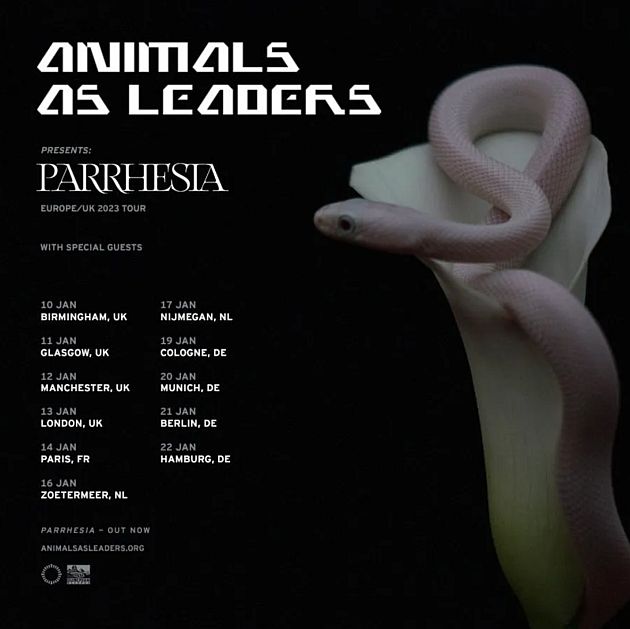 Die Kantine, Cologne, Germany
11th November 2023
Animals As Leaders - "Parrhesia European Tour" - plus Special Guest

Rescheduled date in new venue! Tickets for Cologne remain valid!
In January 2023, ANIMALS AS LEADERS, undoubtedly one of the most virtuoso Metal bands on the global Rock circuit, will visit Germany for four concerts. On the occasion of their new, fifth album 'Parrhesia', for which fans of the band had to wait six long years, the trio, consisting of the two guitarists Tosin Abasi and Javier Reyes and drummer Matt Garstka, is finally going on a European tour again. They will be making stops in Cologne, Munich, Berlin and Hamburg between January 19th and 22nd.
It is undeniable and has been confirmed time and again by many specialist magazines: Tosin Abasi is one of the most virtuoso guitarists of our time. Even Steve Vai, often referred to as Metal's greatest virtuoso, admitted after the release of the self-titled ANIMALS AS LEADERS debut in 2009: "When I first heard ANIMALS AS LEADERS, I felt me like I've heard the future of virtuoso heavy guitar playing. Fascinating." That album, which the originally self-taught guitarist Tosin Abasi recorded almost single-handedly after his Metalcore band REFLUX broke up, was preceded by studies in Jazz and classical guitar. Although the label Prosthetic had offered him the opportunity to record such an album immediately after the REFLEX split, Tosin himself decided that he was not fit enough for such a solo effort. Even then he was considered one of the greatest virtuosos on the seven-, eight- and nine-string guitars built according to his ideas and especially for him.
When the debut finally came out, the press did verbal somersaults: "As satisfying in its visceral kick as in its stunning dexterity," told US Rolling Stone, and Pitchfork wrote: "ANIMALS AS LEADERS is a tightrope walk between pure technical virtuosity and actual emotional resonance." Almost everyone agreed: that Abasi succeeds in telling real stories with his purely instrumental music, which knows absolutely no boundaries between Progressive Metal and Fusion, Ambient and Jazz, Latin, Funk and Djent, which take on a highly visual form in the listener's mind. A Mental cinema of impressive intensity and expansive breadth.
Shortly after the release of the debut, Abasi put together a live band in order to be able to reproduce this unique music on stage - and because he always emphasized that he never intended to be successful as a solo artist. After a few line-up changes in the early years of ANIMALS AS LEADERS, 2012 saw the formation of the current line-up of prolific guitarist / bassist and studio engineer Javier Reyes and Berklee College of Music graduate and drummer Matt Gartska. With the following albums 'Weightless' (2012), 'The Joy of Motion' (2014) and 'The Madness of Many' (2016) not only the success expanded (all three albums climbed into the top ten of the US Hard Rock charts), but above all the sound of ANIMALS AS LEADERS kept going, at times took electronically infected routes, then purely acoustic routes again and became more and more complex. Not least because of Matt Gartska's equally ingenious polyrhythmic work.
The current album 'Parrhesia', for which the band took an unusual amount of time, marks a return to the band's stylistic origins, so to speak: Alongside their debut, it is clearly the heaviest work by the trio. Both the acoustic and electronic experiments were scaled back in favour of a highly complex melody in a Progressive Metal framework that was as broad as possible. Responsible for this is the long-time studio collaborator and, according to Abasi, the "silent fourth member of the band", PERIPHERY guitarist Misha Mansoor.
Additional Concert Info

Doors: 19:00
Start:20:00
Tickets: are available for 29.45 euros (+ charges pre-sale) via
Eventim
Info: https://prime-entertainment.de/veranstaltung/animals-as-leaders/