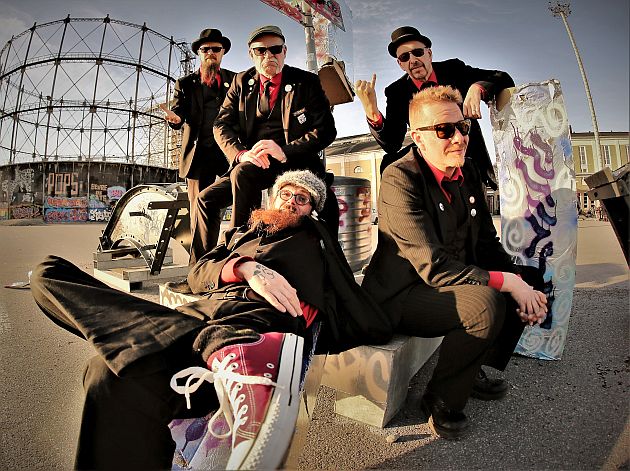 F-Haus, Jena, Germany
3th May 2023
Eläkeläiset - "Humppa ohne Grenzen" Tour 2023

ELÄKELÄISET are the "biggest humppa band in the world". Say it yourself, and who would contradict you? The "Retirees" are not only an institution in their homeland, whose records regularly appear at the top of the charts. In Germany, too, the band has an astonishingly large and, above all, very loyal fan base. The number of your publications? Many! Incidentally, one DVD was awarded gold in Finland.


In 2018, the 25th anniversary of the pensioners was celebrated with an extensive tour and the double CD 'Humppamania' and the 10" vinyl 'Humppainfarkt'. In its 27th year of existence, it is made clear that Humppa has no borders. ELÄKELÄISET play Humppa, a kind of Finnish polka, always introduced by a short, hard-hitting drum intro. Music that goes very well with polonaises or slide dancing. ELÄKELÄISET claim that all Rock, Pop or other classics can be played as Humppa versions and then actually sound really good. So Humppa is… when four crazy, rarely sober Finns not only cover the most well-known chart catchy tunes from Rock, Pop and Metal in a polka style, but "improve" them. The little catch? They sing Finnish!

The texts have - remotely - to do with the original. The musicians simply fill in translation gaps with Finnish swear words or "humppa". In addition, they maltreat bass, accordion, drums and keyboards at breath-taking speed. Incidentally, their stage instruments include a chainsaw, ninja star, shotgun and baton. The most popular game at the live shows of the Finns is: "What's the original name of this damn song?" Little tutoring: 'Enter Sandman' is called 'Soramonttuhumppa' and 'Macarena' is just 'Panojenkka'. 'Humppa Hallelujaa' should be anyone's guess. However, you can correctly assign listeners right away! Unfortunately, not all record labels, publishers and creators share the view that everything sounds better Humppa style. As a result, there were already violent differences of opinion. Which proves that there are a lot of people in the music industry who don't have any sense of humour.

Additional Concert Info
Doors: 19:00
Start: 20:00
Tickets: can be bought for 23.30 + charges (pre-sale) via Eventim
Info: https://www.f-haus.de/cms/event/humppa-290420/
Band: https://www.facebook.com/Elakelaiset
Facebook Event: https://www.facebook.com/events/969046266796386

Photo by Timo Isoaho