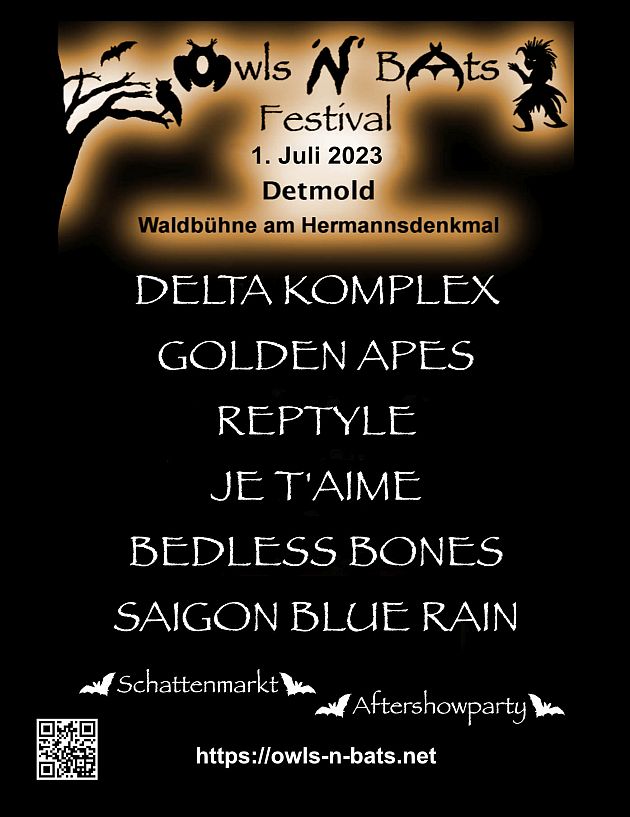 Waldbühne am Hermannsdenkmal, Detmold, Germany
1st July 2023
Owls 'n' Bats Festival 2023 with Saigon Blue Rain, Bedless Bones, Je T'aime, Reptyle, GoldenApes, Delta Komplex

'Owls ´n' Bats' is a one-day Open Air Festival for Gothic, Dark, Cold and New Wave, Electronica, Shoegaze, Post Punk und Batcave. You don't like huge crowds and don't want to pay ridiculous amounts of money to see the same bands every year? This event might be for you.
Enjoy a clearly arranged festival, handpicked bands and the unique scenery of a stage in the forest. A little extra for small people and everyone who like it comfortable: the festival ground is built like an amphitheatre which means you can watch the bands seated if you like and you have a good sight from almost everywhere. There will also be a small market offering art and crafts, fashion accessories and food (including vegetarian and vegan products).
This year's line-up includes two bands from France: SAIGON BLUE RAIN (Cold Wave) and JE T'AIME (Post Punk) - both real insiders' tips. Same applies to BEDLESS BONES a project by Estonian artist Kadri Sammel who is not only vocalist but also producer and multi-instrumentalist. Different from these relative new bands there are the old stagers REPTYLE, the local heroes from Bielefeld. The band has started their career 25 years ago already and still plays solid Goth Rock.
GOLDEN APES were founded in 1998 as well and have seen several cast changes over the years. One of the new members is the German guitarist Gerrit Haasler who has played for FRANK THE BAPTIST amongst others. Last but not least there is DELTA KOMPLEX, a trio with a "truly romantic Goth singer with Siousxielikey influences, a guitarist inspired by the sounds of early NDW and Punk Bands and a Composer who blends analogue sounds with modern synth elements to complex compositions which are hardly to reference." Sounds interesting? We are sure it is.
Additional Festival Information

Doors: 14:00
Start: 16:00
End: 24:00 + Aftershowparty
Capacity: 999
Please note: no camping
Tickets: 39.70 EUR https://owls-n-bats.reservix.de/events
Location & how to get there: https://owls-n-bats.net/?page_id=76 / https://www.waldbuehne-am-hermannsdenkmal.de/waldbuehne/
Website & Social Media

General information: https://owls-n-bats.net
Event on Facebook: https://www.facebook.com/owlsnbats
Instagram: https://www.instagram.com/owlsnbatsfestival