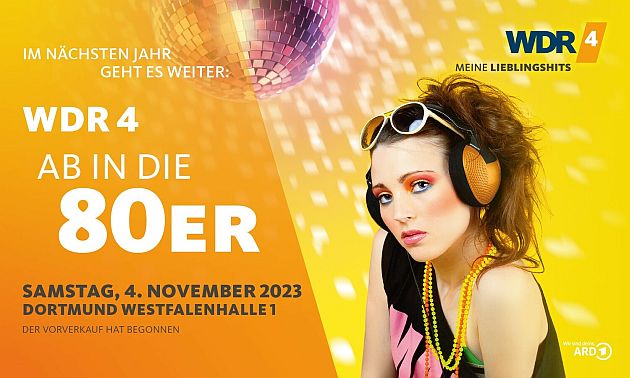 Westfalenhalle, Dortmund, Germany
4th November 2023
WDR4 ab in die 80er! with Kim Wilde, Nik Kershaw, Real Life and many more

It's happening again this year, all your favourite 80s artists are being brought together at one festival! And what artists we have with us again this year! NIK KERSHAW, one of THE stars of 80s Pop, will be there and he'll bring new hits from his 2020 album 'Oxymoron' and his best-of songs that we all love so much! Who hasn't sung along at the top of their lungs to 'Won't Let The Sun Go Down' or 'The Riddle'? Throughout his career, the Briton has been praised by legends such as Eric Clapton and Elton John; the latter even called him "the best songwriter of the century". After the singer had already been on a big tour of Germany in May, he is coming to the festival again in November to celebrate with us.
Another artist to welcome this time is KIM WILDE! So we're all going to be 'Kids in America' for a moment! Of course, a little heartache shouldn't be missing with 'Keep Me Hanging On'. The winner of the "Best Female Voice Award" is internationally known and has landed in the top 5 of the charts from Europe to Asia. Most recently with her well-known duet with NENA, 'Anyplace, Anywhere, Anytime'. She says of herself "I'm a rock chick!", so we can only wait for an incredible performance!
And finally this year: REAL LIFE! After the band unfortunately couldn't be there last year, they are one of the headliners this year! The Synth Pop band performs their biggest hits, including 'Send Me An Angel' and 'Catch Me I'm Falling', which were a huge hit in Germany, the United States and their native Australia, charting top 40 positions in the United States charts landed. So the wait was worth it!
As every year, the festival takes place in the Westfalenhalle in Dortmund. More artists will be announced. Get your tickets now and be there when the 80s come to life again!
Additional Concert Info

Doors: 18:30
Start: 20:00
Tickets: are available from 42.50 euros (plus charges presale) via
Eventim
Info: https://www.lb-events.de/de/veranstaltungen/wdr4-ab-in-die-80er.html