The Secret Garden Festival
Musiktheater Bad, Hannover, Germany
08th July – 10th July 2005
www.secret-garden-festival.de

Including camp ground, children program, knight and fantasy program, 18 bands, 15 DJs, Live area (Open air on Saturday), 1 indoor area, 2 disco areas (basement indoor), 1 open air disco area, 1 café (indoor), Electro party (Friday), Depeche Mode Party (Saturday), Secret Garden Party (Saturday), Batcave party and many more.

"The Festival for the whole family"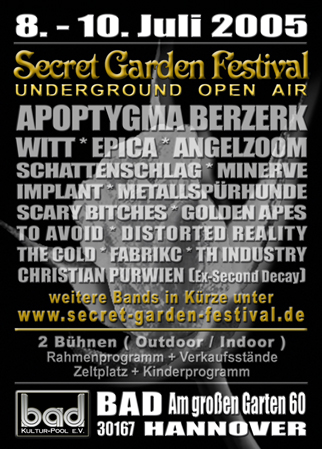 From 80th to 10th July, the black scene again meets at the "Musiktheater Bad" to celebrate together with numerous musicians three days long. Once started as a big Depeche Mode party, the Secret Garden Festival became an insider tip for friends of melancholy electronic sounds at the last year: Deine Lakaien, Mesh, Das Ich and The Crüxshadows were luring about 2500 visitors to the festival near the famous "Herrenhäuser Gärten" in Hannover.
For 2005, the Secret Garden team again announces a great live program with the Norwegian electro stars Apoptygma Berzerk as headliner. Furthermore there will be Joachim Witt, the Dutch shooting stars Epica and Angelzoom performing in a very familiar atmosphere at the "Musiktheater".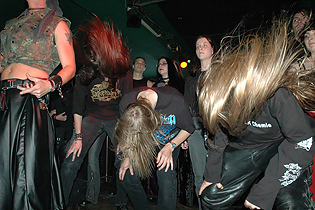 Additionally to the open air program, there will be an indoor program during all three days. Many bands from the underground scene will have the possibility to perform in front of the audience and gain new fans. The styles will span from 80´s influenced Goth Rock (The Cold) over club orientated EBM-sound (Metallspürhunde) to hard industrial beats (TH-Industry).
The opening will be at Friday 8th July with a presentation of five live acts and parties afterwards. On Saturday there will start the main program of the festival at the early afternoon. Live performances will happen in a steady change between open air stage and indoor stage. Besides the stages, a lot of things will happen too. On three areas in total, Hannover´s DJs `C´, Snoop-E, Ari & Kai Hawai, Nemi, Olli P., LCFeltila and many more will spin their records until the early morning hours. There will also be a supporting programme around the live performances and parties: a lot of sales and catering booths as well as artistic performances for fans of mediaeval and gothic times.
Info


TICKETS

Pre-Sales
Saturday: 25.98 EUR
Festival: 30.37 EUR
Festival incl. camp ground: 35.97 EUR (only available via pre-sale)


At the doors

Saturday: 30 EUR
Festival: 35 EUR
Friday: 10 EUR, only party: 5 EUR
Saturday: 5 EUR party only
Sunday: 5 EUR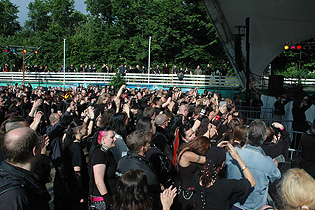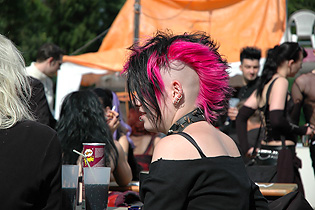 ROUTE
By car

From the highways (see below) direction Hannover/Herrenhausen, B6 Westschnellweg, Exit Herrenhäuser Gärten, Nordstadt, right Herrenhäuser Strasse, right. In the big garden right below the highway (westschnellweg) then directly right and straight on. Parking places available at the "Herrenhäuser Gärten".
From north:
A7 >>> A352 direction Hannover / Dortmund until the end A2 direction Dortmund >>> exit Herrenhausen >>> B6

From east:
A2 >>> exit Herrenhausen >>> B6

from south:
A7 >>> Kreuz Hannover-Ost change to A2 direction Dortmund >>> exit Herrenhausen >>> B6

From west:
A2 >>> exit Herrenhausen >>> B6

Public transport

Tram from central station lines 1, 2 or 8 until stop "Kröpcke". Change to line 4 or 5 and go until stop "Schaumburgstrasse". On the taxi stop there will be a free shuttle service.


Adress

Musiktheater BAD
Am Großen Garten 60
30167 Hannover
Tel.: 0511-1694138
http://www.musiktheater-bad.de



Bands / Timetable


Friday indoor

Implant (23:00)
Minerve (22:00)
TH Industry (21:00)
Schattenschlag (20:00)
FabrikC (19:00)

Saturday open air

Apoptygma Berzerk (20:30)
Witt (18:40)
Angelzoom (17:40)
Epica (16:00)
Scary Bitches (14:30)
Saturday indoor

The Cold (19:30)
Golden Apes (18:00)
Metallspürhunde (16:30)
The Dust of Basement (15:20)
To Avoid (15:20)
Distorted Reality (14:00)
Heavy Current (13:00)
Sunday indoor

The Eternal Afflict (20:00)
Y-LUK-O (18:30)
The Dust of Basement (17:00)
Christian Purwien (ex Second Decay) (15:30)
The Ancient Gallery (14:00)
New Rain (13:00)
Impressions from the last year