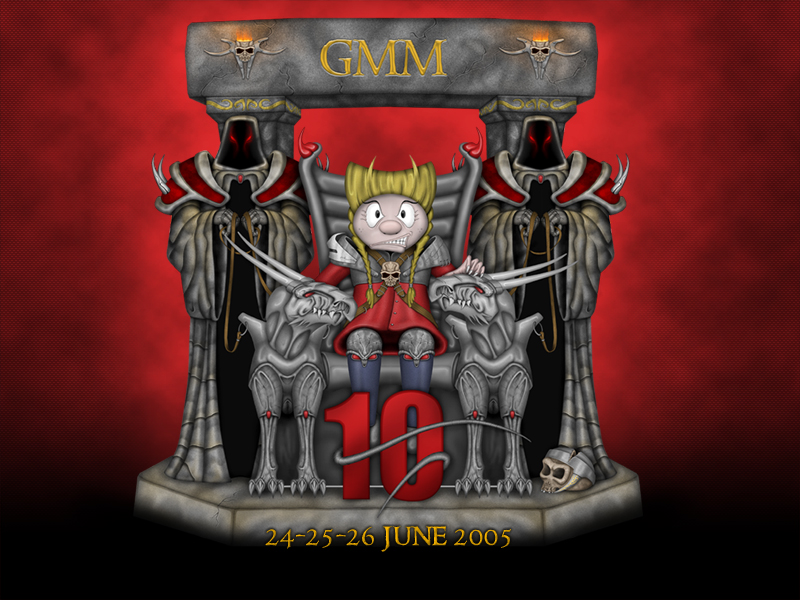 Graspop Metal Meeting
Dessel, Belgium
Friday 24th till Sunday 26th of June 2005

Expected: 40.000 visitors
Tickets: € 105 for three days (only availble in pre- sale) , daytickets cost € 50 for Friday or Saturday. Sunday tickets are € 55. – all available through the Graspop website
Camping: campsite holds 30.000 visitors, only for people with a 3 day ticket
Free parking near the festival or free transport from the Mol trainstation to the festival site for 3 day ticket holders.

First up: congratulations are in order, because this years' edition is already the tenth one of the Graspop festival ( as a metal event) and it is still going strong!

I remember some of the earliest editions of the festival: it was a one day festival which was always put on the day after the Waldrock festival in the northern part of Holland. So I used to go to Waldrock, pack my tent early the next morning ( 6 o' clock! Who said being a metalfan is not hard work) Then catch the first train to Belgium, a 4/5 hour travel, arriving just in time to see the first band performing.
In the first year the campsite ( no showers, only a few toilets, true survival camping!) was occupied by about 50-100 persons and there were mainly Belgian and French visitors. Back then, Graspop was not a household name beyond the borders of Belgium and the northern part of France. But that all changed with the decline of the Dynamo festival in Holland and all too soon the dutch metalfans were looking beyond their countries' borders for a festival to replace their much beloved Dynamo. They found a place not far to travel and with excellent billing year after year. The campsite expanded every year, to host the ever growing hords of the metalmilitia, till it reached about 30.000 campers during the last edition of the festival.
The first editions of the festival in the early 90's were not even featuring a lot of metal bands. It started out as a mainly pop oriented family festival with artists such as Joe Cocker and the Simple minds., but when success and visitors did not come, the organizers realized a change had to be made. Knowing that the best attractions for the crowds in 1993 and 1994 were rock and metal bands, they put on the Graspop with a bill of that genre in 1996 and changed the name to "Graspop metalmeeting". From then on the big crowds started to come in. In 1997 a second- smaller- tent stage was added next to the already existing mainstage and large tent stage. The festival changed from a one day event to a two day event in 2001 by adding a smaller event on the campsite on the eve of the festival . Then in 2002 they became a full blown two day festival. Last year saw it becoming a horrific attack on the stamina of metalfans by changing it into a three day event.
What is the secret to the festivals'success? If you ask me it is the fact that they put together a great bill year after year- knowing which bands are new and exciting and succeeding in booking them- sometimes even exclusively. Combine this with moderate pricing, a central placing for dutch and german metalfans and an excellently equiped campsite ( note the 24 hour tent next to the campsite, there is always a party going on there) Plus they have never shied away from putting on "classic" metal from the likes of Manowar, Iron Maiden, Black Sabbath ( original line-up!) and even Alice Cooper! All this long before it became a trend.
So we are now down to the tenth edition, taking place from the 24th till the 26th of June. Let's have a look at the highlights of this years' bill .
Starting out with Friday : Enslaved, Nevermore, Kreator, Within Temptation, the newly reformed Megadeth and headliner will be System of a down.
I would like to urge you to go see Kreator for all you lovers of classic thrash metal bands- it doesn't get any better than this legendary band who are back on top with their 'enemy of God' album. Let them loosen your headbang muscles.
Ofcourse you should not miss out on the headliner System of a down! When I first heard their music I though that they must all be living in a mental hospital, for they create some of the weirdest shit I ever heard- putting 15 songs ideas in one song, singing 5 words in a second whilst changing the melody lines four times in the course of a song can actually work! One of the most energetic acts around...
On Saturday: Epica, Pro-pain, Behemoth, Rose Tattoo, Mastodon, Amon amarth, back-from-the-dead Gorefest, Sirenia, Hatebreed, Kamelot, Anthrax, Accept, In flames, Slayer and headliner will be Slipknot.
A must is Epica: the favourite band of about 50% of this zine's writers. Their latest album 'Consign to oblivion' was released in April and got great press all around. Heavenly female vocals, metal thrashing and soundtrack like melodies- curious how these ingredients mix? Check em out!
Then the other cannot- do- without band on this day: Kamelot. They have released 'the Black halo' at the beginning of this year, which has been labelled' best album of 2005' already. Need I say more? A US band that have their distinctive style of prog/power metal in the best tradition of Queensryche and Savatage.
( Plus I want to find out whether the duets from the singer of Epica and Kamelot will be performed...)
Save some energy for the Sunday after party: Amen, Oceans of Sadness, Nuclear assault, Dark tranquillity, Primal fear, Arch enemy, Axel Rudi Pell ( the German visitors will be pleased with this one), Dio, Yngwie Malmsteen, Dream Theater, Lacuna Coil and the headliner will be Iron Maiden.
Take a day off on Sunday? No way..... not with Arch enemy on the bill! Angela has some of the best growl vocals in store for you. Skip the rest if you must ( for lack of energy) but go see Lacuna Coil. This Italian band has toured succesfully on the Ozzfest tour in America and are one of the best female fronted metal bands in the current scene.
Then the grand finale that is Iron Maiden get yer mates together for a sing along metal style to all of their classics! Six, six, six......and the hits will keep coming.
People who were expecting to see Chimaira and hot newcomer Bullet for my valentine on the bill, have to be informed that both bands unfortunately cancelled their appointments.
There are some more interesting things which the festival has to offer: a big metalmarket, outside on the festival grounds, as well as in a large tent. The signing sessions also take place in this tent.

Furthermore the 'talent stage' devoted exclusively to upcoming artists. Bands: Autumn, In- quest, Axamenta, Cowboys & Aliens, Sengir, Judasville, Chimaira.
And because it is a special year, there will be a new goodie called 'Music Plaza'- an area of 300 square meters, filled with intruments and offering workshops, contests and what not.
Never a dull monent at Graspop!
- the complete line up for Graspop 2005 and additional information can be found on the website-
www.graspop.be