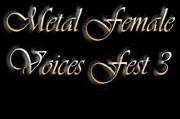 Metal Female Voices Fest III
Oktoberhallen, Wieze, Belgium
October 22nd 2005

For the third time in a row now Metal Femal Voices, showing us the established and the new female vocals in the field. Enjoy some of the best and new vocals metal has to offer these days at this festival. Lacuna Coil, After Forever, Epica, Leaves' Eyes, Autumn, Elis, Midnattsol, Mercury Rain, Asrai, Skeptical Minds, The Legion of Hetheria and Dilivum are all presenting themselves on this evening of female metal power.

Website: http://www.metalorganisation.be/MFVF3/mfvf3.htm
Promotor:
Metalorganisation
Entrance: 35 euro pre-sales/40 euro at the door
Door: 12.00h
First band: 13.00h
Festival's end: 24.00h
13h00 - 13h40 Diluvium*
13h45 - 14h25 Autumn
14h30 - 15h10 The Legion of Hetheria*
15h15 - 15h55 Elis
16h00 - 16h40 Skeptical Minds*
16h50 - 17h30 Midnattsol
17h40 - 18h20 Mercury Rain*
18h30 - 19h20 Epica
19h30 - 20h15 Asrai*
20h25 - 21h15 After Forever
21h25 - 22h15 Leaves' Eyes*
22h30 - 24h00 Lacuna Coil
For more festival information please read the excellent information provided at the promotor's website.
Lacuna Coil

Cristina Scabbia – Soprano vocals
Andrea Ferro – Tenor vocals
Cristiano Migliore – Guitar
Marco "Maus" Biazzi – Guitar
Marco Coti Zelati - Bass
Cristiano "CriZ" Mozzati - Drums
It has been such a long time since I have seen this Italian band, it was on their tour with Moonspell which were some great double performances some 2 years ago. This band was formed in 1996 so their first decade is coming up. Their first self titled album immediately got great reviews and after their debut at the esteemed Dynamo Open Air Festival in The Netherlands, the Metal Mania Festival in Poland, and Italy's prestigious Gods Of Metal Festival the road was paved for success. On this third Metal Female Voices Fest the wonderful vocal combination of Cristina and Andrea may once more conquer our hearts.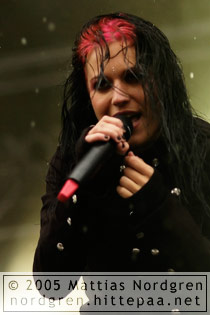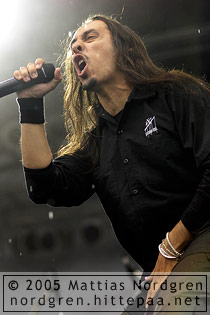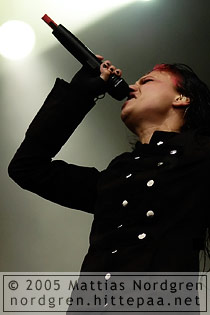 After Forever
Floor Jansen – Vocals
Sander Gommans – Guitar and grunts
Bas Maas - bass
Luuk van Gerven - Guitar
Joost van den Broek - Keys
Andre Borgman - Drums
After Forever was formed in 1995, their music was mostly death metal orientated with classical influences. When Floor Jansen joined the band (1997), the music got more diverse but always contained metal elements.
After Forever recorded their first album Prison of Desire in 2000. This album was received very well in the press and gave the band the opportunity to develop themselves. In 2001 they released 'Decipher'. After Forever became internationally recognised as one of the best female fronted metal bands. They toured through Europe and South Amerika with success, performed in nearly every venue in Holland and recorded the mini album 'Exordium' in 2003.This mini album also contained a mini dvd and gave a glimpse of the new album they would release in 2004 'Invisible Circles". And now they have released their album 'Remagine'. They have just presented this album during a flashing show in the Effenaar in the Netherlands. This album is promising to take them even further than they have ever been.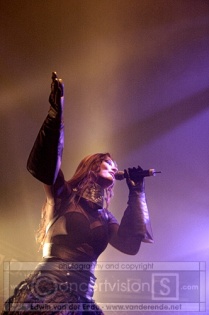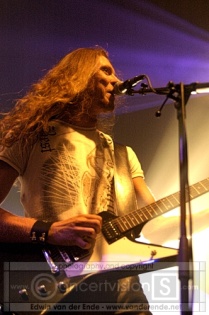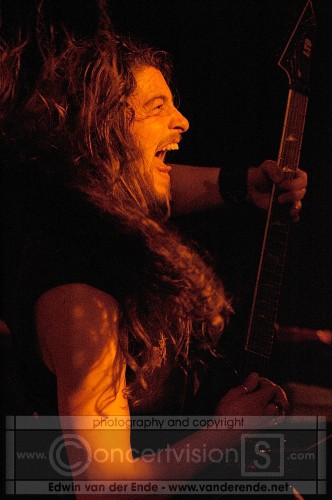 Epica

Mark Jansen
Ad Sluijter
Jeroen Simons
Coen Janssen
Yves Huts
Epica is one of the main acts of Dutch gothic metal. Centered around ex After Forever guitarist Mark Jansen and mezzo-soprano Simone Simons, Epica took the scene by sudden surprise with their debut album 'The Phantom Agony'. In a few years time the band has played all over the globe and 'Consign to Oblivion', Epica's latest offering, is in stores now. This LP shows Epica taking things several steps further, digging deep into ancient Maya culture and mixing gothic metal with powerful rock and film score like arrangements. Epica has established itself as one of the best gothic metal bands from The Netherlands.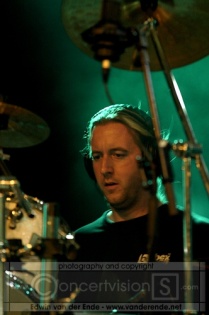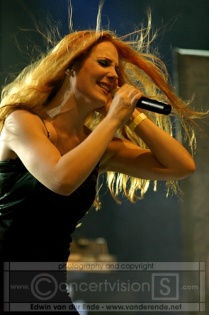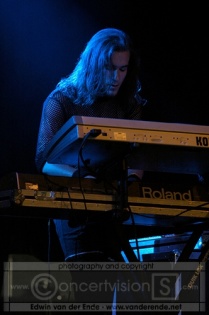 Leaves' Eyes
Liv Kristine Espanaes Krull – Vocals
Alexander Krull – Vocals and programming
Torsten Bauer – Guitar
Mathisa – Röderer – Guitar
Chris Lukhaup – Bass
Moritz Neuner – Drums
World history set to music, seasoned with legends, love and passion – no less could be said about the second Leaves' Eyes album Vinland Saga. Vocalist Liv Kristine and Co. (a.k.a Atrocity) embark on a mystic journey. Leif Erikson's legendary voyage to Greenland in 1000 A.D., which consequently ended in America according most historians, is depicted by Leaves' Eyes through atmospheric Metal, Rock and sensual ballads. It is a story marked by powerful riffs, melody and string arrangements, which represent a colorful bandwidth of musical styles, truly adequate to the very concept of the album itself and never concealing the Nordic origins of the singer. "I found my inspiration for many of the pieces in the Norwegian art and folk music, as well as in Celtic melodies," explains Liv Kristine. She knew from the very beginning that a special approach was needed for such an ambitious musical enterprise: "I absolutely wanted to work with actual classical instruments for Vinland Saga to do this great story justice."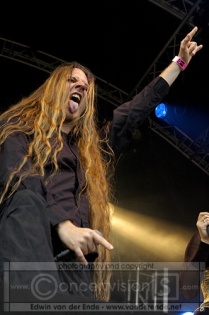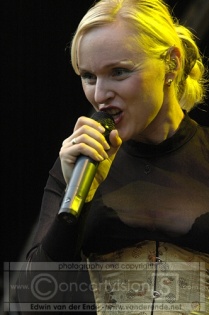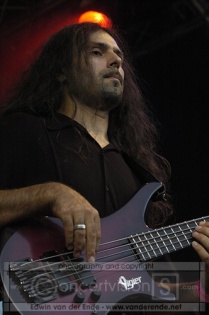 Autumn
Nienke de Jong – Vocals
Meidert Sterk – Bass and vocals
Menno Terpstra – Keyboards
Jan Grijpstra – Drums
Mats van der Valk – Guitar
Jens van der Valk – Guitar and backing vocals
Crossing over en through genres is one of the main focal point for Dutch metal band Autumn. Strong, grooving riffs lay the foundation for a form of metal in which we hear doom, folk, nu-metal and even pop or classical music. Although Autumn is a female fronted metal band, singer Nienke de Jong's vocal cords are quite something else when compared to the prevalent female metal vocals. De Jong's powerful rock voice – without too many high pitched, multi octave pitch bends – fits in perfectly with the moody dark melodic vibe of Autumn's music. Lyrically mysticism, spirituality and witchcraft are at the forefront.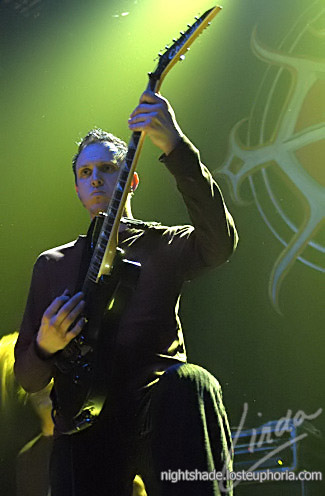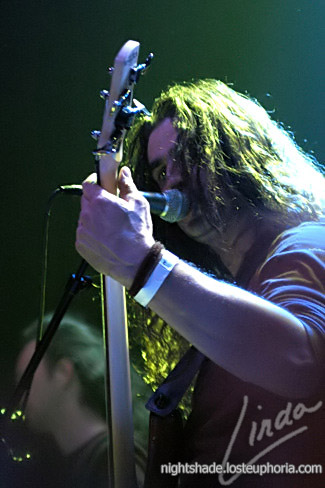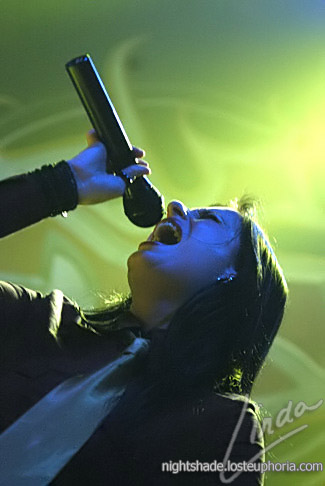 Elis
Sabine Duenser - Vocals
Pete Streit – Guitar
Juergen (Big J) Broger – Guitars
Tom Saxer – Bass, additional vocals

The Liechtenstein formation Elis featuring front lady Sabine Duenser began their musical career under the name 'Erben Der Schöpfung'. In 2001 they released their first single "Elis" as well as their debut album 'Twilight'. Soon after the release of "God's Silence, Devil's Temptation", Elis used their energy on writing new material for their second offering. Between their song writing and recording duties, they found time to tour in a headlining capacity with label mates Eisheilig and The Vision Bleak. The tour took them to Germany, Switzerland, and Belgium. The band offered a preview of the new material during festival performances at the Wave Gotik Treffen and M'era Luna Festival. Further opportunities to experience the new album live are planned for October, as the band embarks on a European Tour with Atrocity, Leaves' Eyes, and Battlelore. Which brings them to this night of female vocals.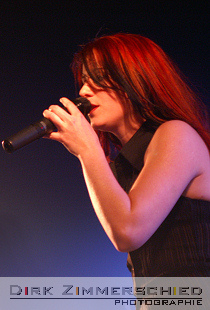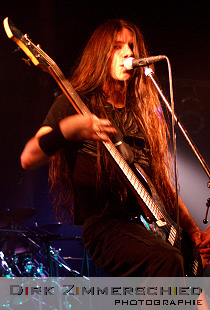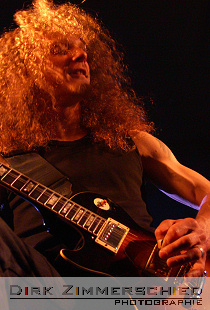 Midnattsol
Carmen Elise Espenaes - Vocals
Christian H. - Guitar
Daniel D. - Guitar
Birgit Ö - Bass
Daniel F. - Keys
Chris Merzinsky – Drums
Nordic styled Folk Metal with a Gothic edge, famously fronted by Carmen Elise Espenaes, younger sister of Leave's Eyes and Theatre of TragedY's Liv Kristine Espenaes. Bass player Birgit Ö is also operational as part of Munich Death Metal band Commander. Drummer Chris Merzinsky has affiliations with Penetralia and Into Darkness.
The band's 2003 demo, leading to a deal with Napalm Records, was produced by Atrocity's Alexander Krull. In September of 2004 Carmen Elise Espenaes was offered the chance to tour with Cradle of Filth on their global road trip for the the 'Nymphetamine'. Priorities with recording a Midnattsol album resulted in her declining the request.
To accompany the March 2005 album 'Where Twilight Dwells' Midnattsol published a companion booklet, 'En Dans I Midnattsol', telling the tale of a "tragic relationship between a troll and a Norwegian girl".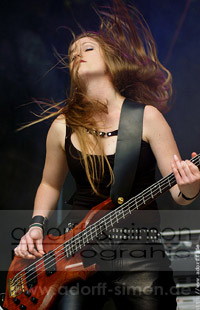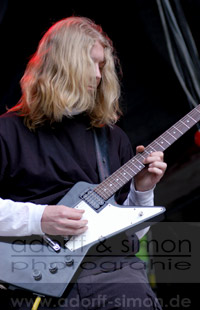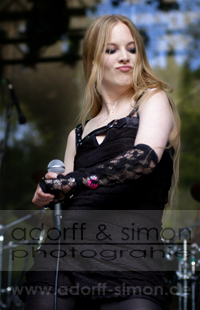 Asrai
Margriet – Vocals
Martin – Bass
Manon – Synths and Violin
Rik – Guitar
Karin - Drums
Asrai is a prime example of a Dutch underground metal band. Rooted firmly in '80-s gothrock Asrai took its trademark melancholy and dark moods and added a healthy dose of metal. It's in this quite special combination Asrai created its own niche with a very personal face full of passion and emotion. Their new-wave metal sets Asrai apart as a very special act in the gothic metal genre.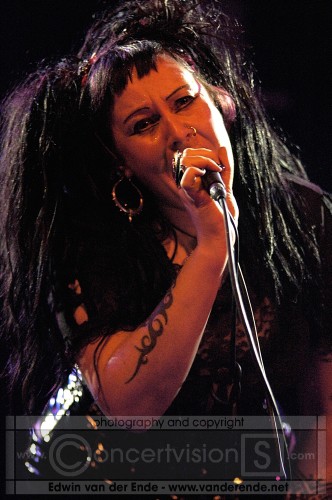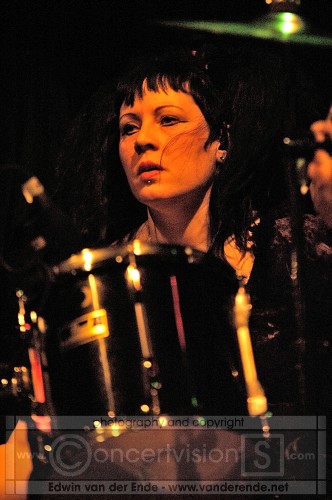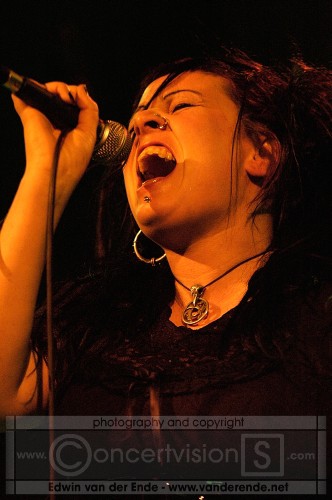 Mercury Rain
Sonia Porzier – Vocals
Dion Smith – Guitar
Roy Chudobskyi – Guitar
Jon Hoare – Bass/Synths
Rodrigo Oliveira – Drums
Beside performing and writing songs this band has taken a trip down an other lane as well, the band took time out from writing and recording to film a promotional video for 'Shadow's Scent' in January 2004. An ambitious venture which involved Jon in a microlight aerial filming in early January on location at the world famous Eilean Donan Castle in Scotland. 'St Matthieu' includes a limited edition bonus DVD featuring three live songs from the 2003 tour, plus the 'Shadow's Scent' promo video. In august 2004 they have released the album 'St. Matthieu' and have been performing ever since, this night they have the chance to reach an even wider audience and strut their stuff at Metal Female Voices III.


Sketptical Minds
Kristell – Vocals
Vincent – Piano
Michel – Electric guitar and double axe
Pascal – Bass
Gab - Drums
Born in June 2002 from the mental fusion of Michel, Vincent and Kristell's brain, Skeptical Minds recorded its first demo CD in january 2004. Their first album Rent To Kill will be released this year 2005. With influences ranging from electro to rock with metal riffs, the Kristell's melodic voice gives the final touch to this music. All members come from various backgrounds and have brought their own influences into the band (Rammstein, Voivod, Lacuna Coil and even Tori Amos)
The Legion of Hetheria
María Victoria Pérez Pérez (Marivi) – Vocals
Harif Hinojosa Mejía – Synths and Keys
Jassir Alan G. – Bass
Ricardo Said Padilla Linares – Rhythm Guitar

After being founded in 2002 they first have to deal with some line up changes. In the beginning of 2004 the band plays they first mini-tour together with the Dutch band After Forever and their popularity starts growing, a month later they make another 5 date-tour with the Finnish band To/Die/For, with a great answer from all audiences, pushing T.L.O.H. to make a more extensive tour around Mexico, but now as headliners themselves (12 dates). After the tour and with new band members, the band gets bigger in Mexico and starts working on new songs, with a little bit more aggressive but also more technical and catchy sounds, now combining also Rick's classical tenor voice. In December 2004, the band gets to do 9 dates in Mexico with the Dutch band EPICA, and even interacted one with the other onstage, making this tour the best way to end up 2004 for T.L.O.H. 2005 brings them to countries they have never seen before. They will finally tour outside of Mexico!

Diluvium

Milica Plavsic - Vocals
Andreja Pesic - Rhythm Guitar
Milorad D. Mladenovic - Lead Guitar
Aleksandar Stevanovic - Keys
Miodrag Stevanovic - Bass
Vladan Bozilovic – Drums

The first official gathering of the members from the band Diluvium took place in 1997. The idea maker of the band, Milorad D. Mladenovic, has stylized the music which the band should treat. After a few years of the persistently work in creative sense Diluvium withheld and closed the circle through the songs which were ready for the realization of the first album that became a very reach opus of their acts. Inspiration for the music is found inside of compositor's emotions and truly experiences which are connected with visions and regards on the true live naked life which is also described in the lyrics. Poetry style of writing is in directly relation with a concrete message of seeking for supreme being and watching for internal nature of human being. So be prepared and enjoy.