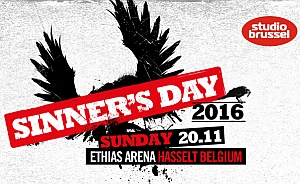 Ethias Arena, Hasselt, Belgium
20th November 2016
Sinner's Day 2016 with The Sisters of Mercy, PiL (Public Image Ltd), OMD (Orchestral Manoeuvres in the Dark), Tricky (Presents Skilled Mechanics), DAF (Deutsch Amerikanische Freundschaft), Tuxedomoon, The Beat, The Cassandra Complex

After a 4-year hiatus, SINNER'S DAY is back! Held from 2009 to 2011 at the Ethias Arena, the indoor festival made a name for itself with headliners such as The Cult, Echo & the Bunnymen, Patti Smith, The Human League, Anne Clark and The Selecter. On Sunday 20 November, the Ethias Arena in Hasselt will once again be ground zero for devotees of the best of New Wave and Punk. The organisation is picking up where the festival left off in 2011, with exactly the same goal: showcasing the best in new wave, punk and alternative music.
The program is complete with eight acts: The Sisters of Mercy, PiL (Public Image Ltd), OMD (Orchestral Manoeuvres in the Dark), Tricky (Presents Skilled Mechanics), DAF (Deutsch Amerikanische Freundschaft), Tuxedomoon, The Beat and The Cassandra Complex.
The Sisters of Mercy
For this 4th edition, the organisers have announced the first headliner and it's a legendary name! None other than the British band THE SISTERS OF MERCY will appear onstage in Hasselt. The group has been on the wish list for SINNER'S DAY and its loyal audience for years. THE SISTERS OF MERCY were and remain one of the most ground-breaking British bands of the 80s. Formed with seminal member Andrew Eldritch in 1980 and solidly rooted in the postpunk movement, the band is considered one of the instigators of New Wave. In 1992 they scored a monster hit with a remake of their classic song 'Temple of Love'. Along with songs such as 'This Corrosion', 'Lucretia My Reflection', and of course, 'Temple of Love', their hits have also included 'Body and Soul', 'Alice' and 'Marian', and are still as powerful as ever, even after 30 years. Judging from their two sold-out concert at the AB earlier this year, the band is in excellent form.
PiL (Public Image Ltd)
Subsequently to the Sex Pistols split up, John Lydon (aka Johnny Rotten) made with PiL some ground-breaking music. 'The Flowers Of Romance' and 'Metal Box' are albums which can be found on a regular basis in lists of influential records. In the 80s PiL was like a synonym for musical innovation. Classic tracks like 'This Is Not A Love Song', 'Rise', 'Death Disco' or 'Dissapointed' are quintessential for playlists of new wave parties. In 1992, Lydon wrote his memoirs and was keeping himself occupied with some other things. However, since 2009, this legendary act reunited. Last year the band released 'What The World Needs Now...' which is PiL's excellent tenth studio album. People who saw PiL play live recently, unanimous agree that they're still one of the most energetic bands on stage.
OMD (Orchestral Manoeuvres in the Dark)
Since its early days, OMD (Orchestral Manoeuvres In The Dark) did clearly put his own stamp on new wave music. On a regular basis this band equally ranked at the top in the 80's charts. After their hugely well acclaimed LP Organisation which featured 'Enola Gay', this Liverpool based band was at the top of the charts for several weeks in 1981 with 'Joan Of Arc (Maid Of Orleans)'. Subsequently they had one hit after another, but in the mid-90s this British hit machine had a break. However in 2007 the original members reunited and possibly more than in its heydays O.M.D. showed the world they are truly one of the pioneers of synth pop. OMD's recent albums 'History Of Modern' and 'English Electric' showed that, after a career of nearly 40 years, this band is still as relevant to music as they used to be at the time when they released their debut single 'Electricity' on the famous Factory label in 1978.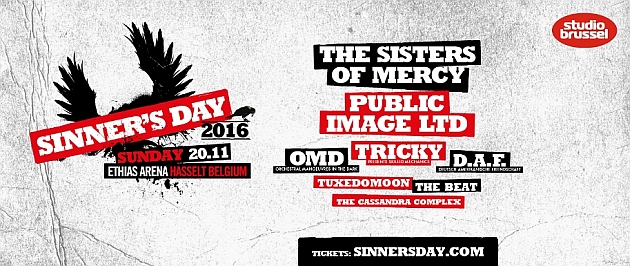 Tricky (Presents Skilled Mechanics)

It is very likely few people have heard of the name Adrian Thaws. However Tricky Kid, his nom de plume, will definitely ring a bell. The Bristol based rapper used this pseudonym during his time in Massive Attack. Nevertheless this British musician had so many ideas of his own, he swiftly aimed for a solo career. In collaboration with the then fifteen year old Martina Topley-Bird, he recorded 'Maxinquaye' in 1995, thus putting a clear mark on music. Tricky himself became the master of dark trip-hop. He never was the easiest guy to deal with, but he's always been able to work with big shots such as Björk, Red Hot Chili Peppers, Cypress Hill and The Specials' Terry Hall. Tricky's been touring recently across Europe to present his latest CD called 'Skilled Mechanics'. As always, without the slightest concession, but with the talent of a real genius.


DAF (Deutsch Amerikanische Freundschaft)

When DAF (Deutsch Amerikanische Freundschaft) released their 7 inch 'Kebab-Träume' in 1981, Gabriel Delgado-Lopez and Robert Görl were probably unaware they created the EBM genre. Their third album 'Alles Ist Gut' (which includes the controversial super hit 'Der Mussolini') was released on Virgin Records. This masterpiece eventually sold hundreds of thousands copies. During the recording of their fifth album 'Für Immer' in 1982 the duo split up, as both Gabriel and Robert opted for a solo career. However, three years later the duo reunited and scored massive hits with 'Brothers' and 'Voulez Vous Coucher Avec Moi Ce Soir'. But the real DAF sound came back in 2010 with the self-released CD 'Du bist DAF'. Since that moment, by means of their vigorous and kinetic live shows, DAF is showing us once more they're still one of the best acts in the EBM-genre.


Tuxedomoon

This year, 'Half-Mute', the monumental debut by Tuxedomoon was reissued. A perfect opportunity for this band to perform again with the same energy and quirkiness that was so representative for these guys. Many people tried to, but no one succeeded in putting a specific label on the jazz-inspired post-punk of Tuxedomoon. In the early 80s Steven Brown, Blaine L. Reininger and Peter Principle left their homeland America for Europe, as alternative music fans in this part of the world seemed to appreciate Tuxedomoon's music much more. Luc van Lieshout joined the band and in little time they became somehow a cult phenomenon. Melancholy, contrariness, fear and unpredictability made 'Holy Wars' one of the most beautiful and timeless records of the 80's.


The Beat

Along with The Specials and The Selecter, The Beat is one of the most significant British ska bands. Their first single (a cover of Smokey Robinson's 'Tears Of A Clown') appeared on the legendary 2 Tone Records, but soon this Birmingham band opted for its own label (Go Feet Records). Their mix of Jamaican ska and British punk rock was worldwide appreciated. Tracks such as 'Can't Get Used To Losing You' and 'Mirror in the Bathroom' were worldwide hits. In America (where they were known as The English Beat), they toured with big shots e.g David Bowie and The Clash. Subsequent to The Beat's 3rd album (Special Beat Service) the band split up. Singer Ranking Roger formed General Public, and the Beat's guitarist and bassist founded Fine Young Cannibals. But… like many great bands, The Beat fortunately reunited. As a result of this they performed extensively. And on top of it, Bounce, their first new album in over 30 years, will be released on September the 30th. So, even in 2016, this UK band is still an absolute guarantee for an unforgettable ska party.


The Cassandra Complex
Record collections of new wave fans are incomplete without any album of The Cassandra Complex. An alternative 80s party just has to have 'Moscow Idaho' on its play list. The style of this band is often described as crossover electro-punk which made them beloved also by many EBM fans. The driving force behind this Leeds band which is formed in 1980 is Rodney Orpheus. This singer is well known for never mincing words in his lyrics. Although over the years there were some changes in the line-up, eventually in 2007 the original band members reunited. Since then they've been playing energetic gigs all over the world with a set list featuring brilliant and classic tracks such as 'One Millionth Happy Costumer' and 'War Against Sleep'.
Additional Festival Info

Doors: 12:00
Start: 13:00
Ticket Fees: 60 EUR (Entrance Ticket incl. fees)
Tickets are available online at
http://www.sinnersday.com/tickets.html
More info:
http://www.sinnersday.com
/
https://www.facebook.com/SinnersdayFestival
Facebook Event:
https://www.facebook.com/events/230341570695074