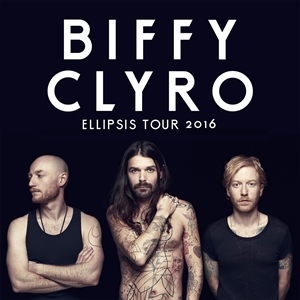 Sporthalle, Hamburg, Germany
4th November 2016
Biffy Clyro

2016 is unarguably the year of BIFFY CLYRO. Although these Scotsmen have been around in the music business since 1995, it has only been this year that they've managed to conquer the German market completely. Their songs are on heavy rotation on several radio stations and they've hit the stages of a great number of festivals in 2016. Last month, the trio already visited Hamburg on occasion of the Reeperbahn-Festival and they will return in early November as part of their "Ellipsis" tour.
This October/ November concert hall tour includes five dates in Germany and much to everyone's delight, there will be three additional BIFFY CLYRO shows in Germany in February 2017, which will take place in Stuttgart, Bochum and Hannover. The band's recent seventh album, called 'Ellipsis', was released as early as July 8th 2016 and straightforward entered the British as well as the German charts on #1. Their latest single 'Howl' a genuine piece of art, both musically and visually. As their past career spans various elements of traditional Alternative Rock up to String Arrangements, they've now entered the realms of Pop-Rock songs, producing as many sounds as possible by hand in the studio.
The first single, 'Wolves Of Winter' released prior to the album, suggested quite a different approach with its drum-machine and loads of guitar tracks. However, BIFFY CLYRO also delivered an acoustic ballad called 'Medicine'. Singer Simon Neil describes the album as "
...a punch in the face rather than a heartfelt hug"
. Fans can without a doubt look forward to a tour with boiling concert halls, roaring fan chants and hand-made rocking sounds.
"ELLIPSIS" LIVE SHOWS

October 23rd 2016 Zenith, Munich
November 24th 2016 Max-Schmeling-Halle, Berlin
November 04th 2016 Sporthalle, Hamburg
November 08th 2016 Festhalle, Frankfurt
November 11th 2016 LANXESS Arena, Köln
February 03rd 2017 Porsche-Arena, Stuttgart
February 09th 2017 RuhrCongress, Bochum
February 11th 2017 Swiss Life Hall, Hannover
Additional Concert Info

Starts: 8:00pm
Tickets: € 47.25
More info is here:
https://neuland-concerts.com/biffy-clyro-tickets-22.html