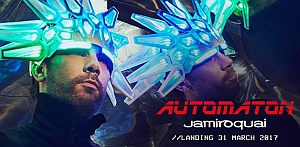 Good news: Electronic funk sensation JAMIROQUAI are finally back! Seven years after 'Rock Dust Light Star', the band's follow-up album titled 'Automaton' will be out on March 31. Watch the comeback video of the new title track and you'll see for yourself: It seems as if Jay Kay and his band have never been away. With a crazy bastard of a helmet and hat on Jay Jay's head and his incomparably smooth timbre the song is not just a hit, but could still carry the label "future funk" - a label, which had been coined just for him shortly after he founded the band in 1992.
The front man tells us more about the inspiration for 'Automaton': It
"is in recognition of the rise of artificial intelligence and technology in our world today and how we as humans are beginning to forget the more pleasant, simple and eloquent things in life and in our environment including our relationship with one another as human beings."
The second pre-released track 'Cloud 9' is at the same level with Jay Kay increasing the funk factor even more. When it comes to JAMIROQUAI's tunes, one thing has always been certain: If you are able to stand still when hearing this music, you've probably lost all capability of feeling.
After the festival summer, the band from London will embark on a tour visiting three German arenas in November. They will surely celebrate their new songs in form of a big and colorful show in Düsseldorf, Berlin and Munich. Check the dates and don't miss your chance to dance with JAMIROQUAI! It's been a while - welcome back!
German Tour Dates

Nov 7 - Mitsubishi Electric Halle, Düsseldorf
Nov 13 - Velodrom, Berlin
Nov 16 - Olympiahalle, Munich
Additional Concert Info

Doors: 7:00pm
Starts: 8:00pm
Tickets: are available on pre-sale starting March 10th at 10am for 40.00€ (plus fees) at
www.tickets.de
and
www.eventim.de
Info JAMIROQUAI:
www.jamiroquai.com
/
https://www.facebook.com/JamiroquaiOfficial