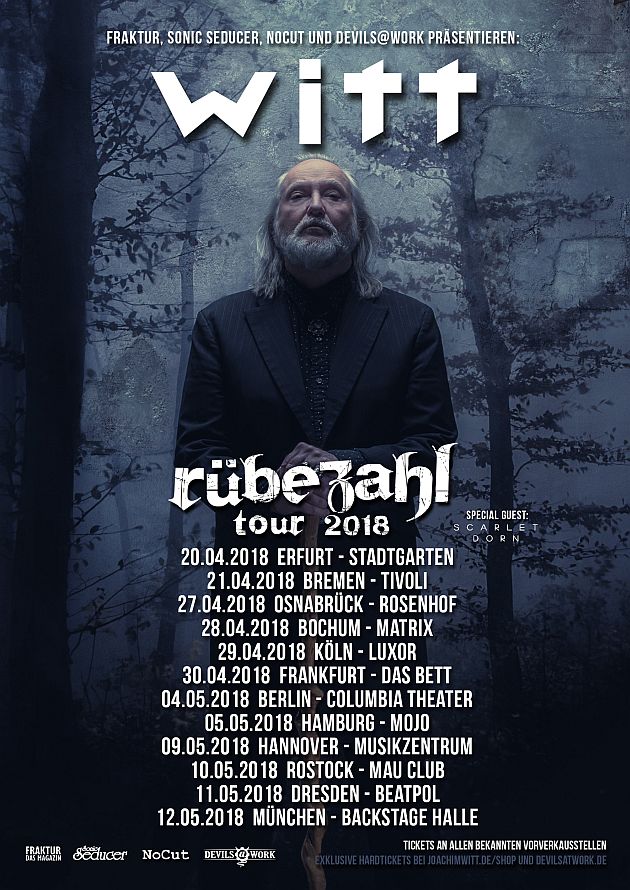 JOACHIM WITT
has reinvented himself many times, always keeping to the spirit of the time of authoritative German music history. He never shied away from political and social criticism. Timeless are his hits 'Der Goldene Reiter', which describes the performance pressure and anti-social aspect of capitalism including one's own failure, as well as the legendary duet with
PETER HEPPNER
on the song 'Die Flut', a statement about the pursuit of a better life or at all for a better world.
WITT has released sixteen albums since 1980, starting with 'Silberblick' and the release 'Der Goldene Reiter' (Gold Status), via the 1998 released successful comeback album 'Bayreuth I' (Gold Status) whose release 'Die Flut' even reached platinum, up to 'DOM' in 2012 with the single release 'Gloria' and the highly controversial music video. With the crowd-funding campaigns for his last two albums 'ICH' and 'THRON', WITT established a particularly close connection to his fans. The same principle is now applied again to 'Rübezahl', the new work of the exceptional artist. 'Rübezahl', the album, elegiac, wistful, angry and yearning, describes in new facets WITT's recurrent themes that are particularly close to his heart.
In collaboration with the producer and front man of
LORD OF THE LOST
, Chris Harms, probably the most unambiguous album since 'Bayreuth 1' and 'DOM' is created. Moving, naturalistic images once again prove JOACHIM WITT's extraordinary versatility without losing his own original style. 'Rübezahl' is moody, spirited, rigorous, proud, friend and foe, and draws like a musical storm! And so, JOACHIM WITT will once again be giving twelve concerts all over Germany in 2018, bringing new songs and beloved classics. 'Rübezahl' will be released on JOACHIM WITT's own label Ventil in cooperation with Believe / Soulfood.
Tour Dates

Support: Scarlet Dorn
20.04.2018 Erfurt-­‐Stadtgarten
21.04.2018 Bremen-­‐Tivoli
27.04.2018 Osnabruck-­‐Rosenhof
28.04.2018 Bochum-­‐Matrix
29.04.2018 Cologne-­‐Luxor
30.04.2018 Frankfurt-­‐Das Bett
04.05.2018 Berlin-­‐Columbia Theater
05.05.2018 Hamburg-­‐Mojo
09.05.2018 Hanover-­‐Musikzentrum
10.05.2018 Rostock-­‐MAU Club
11.05.2018 Dresden-­‐Beatpol
12.05.2018 Munich-­‐Backstage Halle
General pre-sale starts 22nd November 2017. You can buy tickets via
Eventim
or
Ticketmaster
.
The Tour will be supported by
SCARLET DORN
. The artist combines the elegance of the dark with the catchiness of Pop. Liberated from genre boundaries, she sings herself, underpinned by industrial sounds, rock ballads and electronic beats, directly into the listener's heart. SCARLET DORN leads thematically through the complex human abysses, through worlds of hope and sadness but also into the arms of life with all its beauty. The classically trained 24-year-old exudes a variety of emotions with her engaging voice, which covers everything from tenderness to menace. SCARLET DORN is produced by the producer team Chris Harms (LORD OF THE LOST) and Benjamin Lawrenz at the Chameleon Studios Hamburg. The debut album 'Lack Of Light' will be released in spring 2018.
Source: Press Release