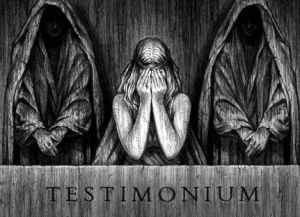 Haus Leipzig, Leipzig, Germany
16th February 2018
Lacrimosa – "Testimonium Tour" – Support: Morlas Memoria

January 10, 2016: David Bowie is dead!
January 18, 2016: Glenn Frey, the legendary guitarist of THE EAGLES dies after a serious illness!
January 26, 2016: The singer Colin Verncomb alias BLACK dies as a result of an accident!
March 08, 2016: The "fifth Beatle", George Martin dies in his homeland!
April 21, 2016: PRINCE is dead!
June 19, 2016: Götz George dies in Hamburg!
November 07, 2016: Leonard Cohen dies as a result of a fall!
December 25, 2016: George Michael is dead!
December 27, 2016: Carrie Fisher dies after a heart attack!
December 28, 2016: Only one day after the death of her daughter Carrie Fisher, the great Debbie Reynolds dies!
"In 2016, the world has had to say goodbye to too many great artists - creators of unique moments for eternity! I grew up with their art, their down-to-earthiness, their megalomania, their uniqueness, their entire work shaped my childhood and youth and was often a role model: the art-loving and humble nature of Götz George, the visionary versatility of David Bowie, the versatility in the unmistakable uniqueness of Prince, the depth and melancholy of Leonard Cohen, they all share what I am allowed to be and what I have been expressing with LACRIMOSA for 27 years! This album is dedicated to them". Tilo Wolff (Lacrimosa)
Additional Concert Info

Doors: 19:00
Start: 20:00
Tickets: can be bought for 38.45 euros + charges (pre-sale) via
Eventim
Info: https://www.facebook.com/LacrimosaOfficial/ https://www.facebook.com/morlasenigma
Facebook Event: https://www.facebook.com/events/143467369709932
Location: http://www.hausleipzig.com/event.html/1123_lacrimosa-testimonium-tour-2018
More on
Lacrimosa