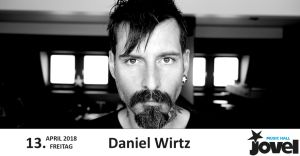 Jovel, Münster, Germany
13th April 2018
Wirtz - "Die Fünfte Dimension" Tour 2018

WIRTZ is celebrating a very special anniversary this year: for 10 years the former front man of SUB7EVEN has been successfully walking on solo paths. This is celebrated extensively! On 17th November, his fifth studio album, 'Die Fünfte Dimension', was released and in the spring of 2018 he will embark on an extensive tour through a total of 18 cities in Germany and Austria.
WIRTZ has never been a hype, never a phenomenon or niche: WIRTZ is an artist and label, the do-it-yourself prototype. After ten years of hard work, a healthy growing and grateful fan base, ever-expanding clubs, numerous TV appearances, a TV format specially designed for him, support shows for i.e. Udo Lindenberg and countless festival appearances, Daniel Wirtz rewards himself and his fans with what he does best: music!
With new songs and well-established hits, WIRTZ will tour again in mid-April 2018 and will deliver immediate, sweaty and honest rock shows to its fans. On 13th April, he is stopping at the Jovel in Münster!
Additional Concert Info
Doors: 19:00
Start: 20:00
Tickets are available for 39.40 incl. charges (pre-sale) via
Eventim
Info: http://www.jovel.de/veranstaltungen/288834.wirtz---die-f-nfte-dimension-tour-2018
More on
Wirtz
Picture by Nada Lottermann