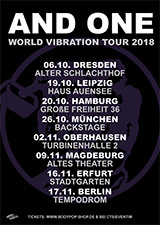 Turbinenhalle 2, Oberhausen, Germany
2nd November 2018
And One - "World Vibration Tour 2018/19"


AND ONE charge the vibrator! The German Synth Pop group AND ONE, founded in 1988, can look back on a moving as well as successful 30-year career this year. This anniversary must be celebrated! That's what the formation around vocalist and mastermind Steve Naghavi thought, announcing their first 30-country world tour under the motto "World Vibration Tour 2018/19
"
. As part of this tour, the Berlin body-popper make it vibrate in eight German cities again. The engine is oiled, the batteries full.
All AND ONE classics have undergone a sound update without losing their sex appeal, stamina and slipperiness.
"Breaking style is something for indecisive Mimimis",
says mastermind Steve Naghavi. This is to be felt deep, especially on the upcoming album 'Vibrator', with which AND ONE will penetrate their fans on their world tour wet and without foreplay. Because nothing bothers the fans more than the anticipation of the next 'Trilogy 2', which is to mark the 30th anniversary with three new fulltime albums ('Vibrator', 'Joker' and 'Kontakt')! What lasts long is good, or as the drummer and co-songwriter Joke Jay says self-deprecatingly:
"We do not have to be the fastest. Only the horniest!"
AND ONE is the G-spot of the black scene. So get free and COME!
Additional Concert Info

Doors: 19:00
Starts: 20:00
Ticket Fee: 38.55€ pre-sale plus charges and plus shipping costs via
Eventim
or at http://www.bodypop-shop.de/
Info: https://www.facebook.com/events/185875698854164/
Tour Dates

06.10.18 Dresden, Alter Schlachthof
19.10.18 Leipzig, Haus Auensee
20.10.18 Hamburg, Große Freiheit 36
26.10.18 Munich, Backstage Werk
02.11.18 Oberhausen, Turbinenhalle 2
09.11.18 Magdeburg, Altes Theater
16.11.18 Erfurt, Stadtgarten
17.11.18 Berlin, Tempodrom
More on
And One