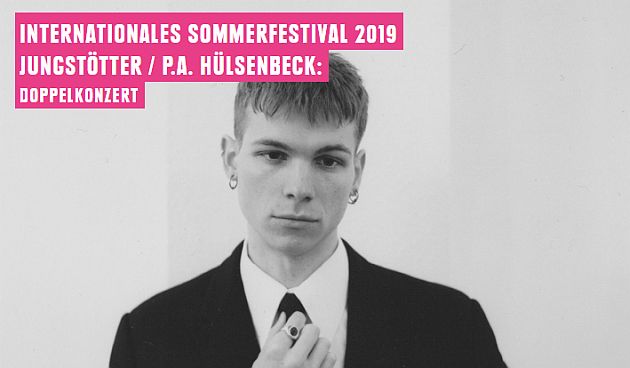 Kampnagel, Hamburg, Germany
18th August 2019
Jungstötter / P. A. Hülsenbeck - Kampnagel Sommerfestival Hamburg

Kampnagel invites once more to its famous summer festival, taking place this year from 7th to 25th August, and dive in into the varied program including concerts, art, cinema, dance, theatre and all kinds of performances. For further info about the whole program, take a look at the homepage, see the link below.
On 18th August Kampnagel invited to a double concert of JUNSTÖTTER and P. A. HÜLSENBECK. JUNGSTÖTTER's debut album 'Love Is' received a lot of positive and inspirational feedback, confirming the individual, artistic and emotionally deep and thoughtful roots and influences of the music that JUNGSTÖTTER is creating. It is sometimes hard to believe that the vocals are from here and now, there is so much of the charm taken from the 20ies and 30ies of the last century, while singing about topics that never lose their meaning and perspective.
The second act of the evening is P. A. HÜLSENBECK who is also musician, exactly guitarist at JUNGSTÖTTER. Both bands combine the passion for the interaction between classic music instruments, modern synth sounds and the joy of experimenting. Dark, melancholic, different, modern & classical - all the facets will be presented on that evening in August.
Additional Concert Info
Doors: tba
Start: tba
Tickets: from 18.00 € (+ charges/shipping) via Kampnagel
Info: https://www.kampnagel.de/de/programm/jungstoetter-huelsenbeck/?id_datum=7951
Artists: https://www.facebook.com/jungstotter / https://www.facebook.com/pahuelsenbeck