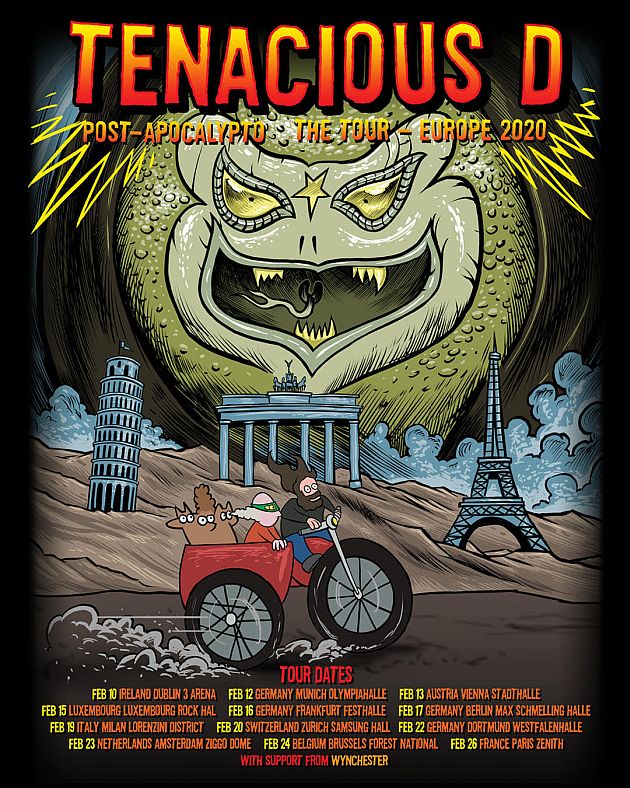 Rockhal, Esch sur Alzette, Luxembourg
15th February 2020
Tenacious D - "Post-Apocalypto The Tour" 2020 - Support: Wynchester

Jack Black and Kyle Gass make up the "Greatest Band in the World": TENACIOUS D. They started playing together in Kyle's studio apt on Cochran Ave in Los Angeles. No one could have ever dreamed of where the band's genius would take them, but take them it did...
The band had a variety series on HBO that aired in 1999. Their self-titled album was released in the fall of 2001 with Epic Records and was quickly certified at gold-selling status, and has since been certified platinum. The duo completed their first feature film together - 'Tenacious D in the Pick of Destiny' - for New Line Cinema, which was released in November 2006. The album 'Rize of the Fenix' followed in 2012, receiving a Grammy nomination for "Best Comedy Album".
In 2013, Black and Gass founded and hosted Festival Supreme, a music and comedy festival in Los Angeles, CA. In its first four years, Festival Supreme boasted acts such as ADAM SANDLER, SARAH SILVERMAN, FLIGHT OF THE CONCHORDS, "WEIRD AL" YANKOVIC, PATTON OSWALT, DIE ANTWOORD, AMY POEHLER, WORKAHOLICS, & many more. In 2014, TENACIOUS D won a Grammy in the category of "Best Metal Performance" for their cover of RONNIE JAMES DIO's 'The Last In Line.'
On November 2, 2018, TENACIOUS D released 'Tenacious D in Post-Apocalypto' - an animated film, with each frame hand-drawn by Black and every character voiced by Black and Gass. Alongside the film, the band also dropped the album 'Post-Apocalypto'. Together, they create a genius addition to the D's already scintillating catalogue of rock greatness.
Additional Concert Info

Doors: 19:00
Start: 20:00
Tickets: sold out
Info: https://www.atelier.lu/shows/tenacious-d/
More on
Tenacious D
and
Wynchester