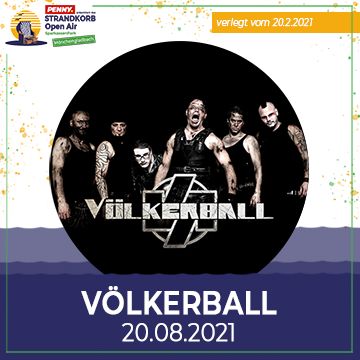 SparkassenPark, Mönchengladbach, Germany
20th August 2021
Völkerball - "A Tribute To Rammstein" - Strandkorb Open Air

Strandkorb Open Air - a perfect location and solution to meet up all the pandemic requirements. You sit in beach chairs and enjoy the concert with distance to the next beach chairs. If you are thirsty or hungry, the local catering service will help. Simply order via app and they will deliver it directly to your beach chair.
VÖLKERBALL isn't only a name for a team game (Eng. dodgeball). It's also the name of the best RAMMSTEIN cover band. A guarantee for a big pyro-show and hard guitar riffs. Singer René Anlauff and his band play all RAMMSTEIN songs so perfect that you might even think seeing the original up there on stage. Even the show and the look of the band members are similar to the original.
After a great show last year, VÖLKERBALL returns to the Strandkorb Open Air at SparkassenPark Mönchengladbach at 20th of August 2021. If you've never seen VÖLKERBALL catch the chance to visit this top event. And if you have seen them already, you know what you get. So, hurry up and buy your ticket soon!
Additional Concert Info

Start: 20:00
More info: https://www.voelkerball.eu/tour/moenchengladbach-sparkassenpark-5
Tickets: from 45.70 € (+ charges/shipping) via https://shop.derticketservice.de/sparkassenpark/details/?evid=2407052
Band: https://www.voelkerball.eu/
See also (all categories):