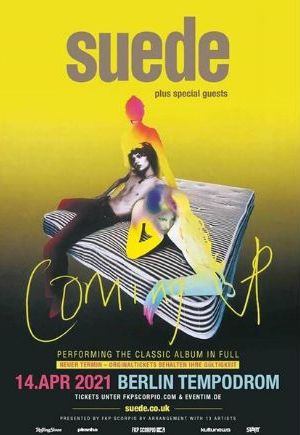 Knorkatorhalle (Columbiahalle), Berlin, Germany
15th Mai 2022
Suede - "Coming Up Tour" - Performing the classic album in full

On the tour SUEDE want to play their complete album 'Coming Up'. "Now the shows take place exactly 25 years after the release, which is much more satisfying in terms of numbers," reports the band. Since the 1990s, the British band SUEDE has stood for a great departure, a new style - and still do so today. The music that revolutionized Brit-Pop. Never stand still. Constantly challenging yourself. Or as the band puts it: "Getting the energy of what you used to do without becoming a self-parody is the holy grail".
SUEDE look back calmly and focus on what was formative. In 1996, 'Coming Up' was released, the most commercially successful album of his career and at the same time the first to be recorded with the line-up that is still valid today: the founding members, singer Brett Anderson and bassist Mat Osman, and drummer Simon Gilbert, who joined shortly afterwards, still form the band to this day the scaffolding, guitarist Richard Oakes had replaced Bernard Butler, and keyboardist Neil Coding was fresh on. 'Coming Up' peaked at number one in the UK, went platinum and was the second SUEDE record to be nominated for the Mercury Prize. This year the successful album celebrates its 25th anniversary.
If you listen to this work today, you wonder a little where the Britpop is actually hidden in it, BLUR and PULP and of course OASIS have shaped the genre concept too much. But if you listen closely, you realize why the English people were the great role model for the others - and how little they bothered about classification and pigeonholing. Because everyone involved has been making music together again for several years and because they still influence British musical life to this day, SUEDE have decided to make this musical cosmos an experience live again and, in keeping with the 25th anniversary, 'Coming Up' at the center to face their upcoming tour.
Additional Concert Info

Doors: 19:00
Start: 20:00
Tickets: are available for 47.75 euros (+ charges pre-sale) via
Eventim
Facebook Event: https://www.facebook.com/events/206411760483631