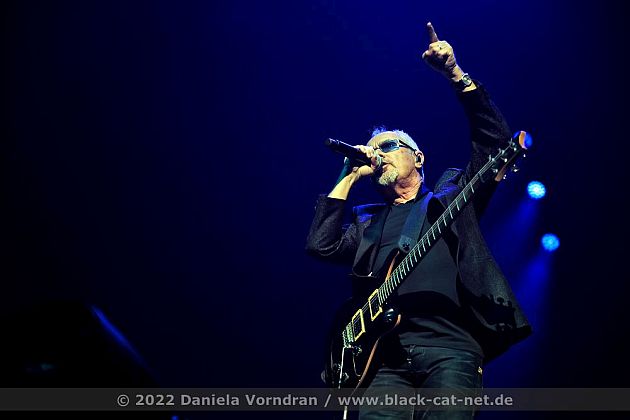 With a flute player as a father and an opera singer as a mother, NIK KERSHAW's love of music was practically born in the cradle. Despite this, he describes himself as a late developer and only showed his interest when he saw DAVID BOWIE on television at the age of 15. Through him and inspirations like T-REX, DEEP PURPLE, GENESIS and SIMON & GARFUNKEL, NIK KERSHAW became one of the Pop stars of the 80s.
It all started in September 1983 when he released his acclaimed hit single 'I Won't Let the Sun Go Down' which reached number 47 in the UK Charts and topped the chart on the second release, hitting number two. The song 'Wouldn't It Be Good' followed in January 1984, with which he followed his success directly and achieved his international breakthrough. By then everyone knew the name NIK KERSHAW.
His seminal debut album 'Human Racing' achieved international platinum status. Two European tours followed, four more singles and another platinum album 'The Riddle' - all before the end of 1984. He played sold-out tours all over the world: from Europe to Canada, Australia, USA and even to Japan. Everyone wanted to hear NIK KERSHAW and his ground-breaking songs. Nik always had its finger on the pulse and gave its fans what they asked for: Three more hit singles and the two albums 'Radio Musicola' and 'The Works' were released. In addition, a spectacular performance at 'Live Aid', the concert that generations will remember.
He then left the spotlight to focus on songwriting and production. During this time, he worked with well-known artists such as CLIFF RICHARDS, BONNIE TYLER, NICK CARTER, THE HOLLIES and IMOGEN HEAP and even co-produced the world-famous hit 'The One and Only' for CHESNEY HAWKES. He only briefly interrupted this musical break to work with his great idol TONY BANKS and to record a duet with Elton John, which he wrote himself and subsequently appeared on John's album 'Duets'. The legend himself called Kershaw "the finest songwriter of his generation". His latest work after the 2012 album 'Ei8ht' is the 2020 released 'Oxymoron'.
Hailed by the likes of ERIC CLAPTON and MILES DAVIES throughout his career, NIK KERSHAW has been nominated for a total of four Brit Awards. To this day he writes and performs songs for his loyal fans around the world. Now he's going on a tour of Germany again to present his best of and of course the latest hits to his German fans again, and he's performing in a total of 10 cities. Be there at an appointment near you!
German Tour Dates
April 28, 2023 - Lübeck, Kolosseum
April 29, 2023 - Rostock, Stadthalle
May 1, 2023 - Hamburg, Gruenspan
May 2, 2023 - Leipzig, Haus Leipzig
May 3, 2023 - Berlin, Columbia Theater
May 5, 2023 - Frankfurt am Main, Batschkapp
May 6, 2023 - Stuttgart, Liederhalle/Mozartsaal
May 7, 2023 - Munich, Technikum
May 8, 2023 - Bochum, Starlight Express
May 9, 2023 - Düsseldorf, Savoy Theater
Tickets:
https://tidd.ly/3IzOCrA
See also (all categories):