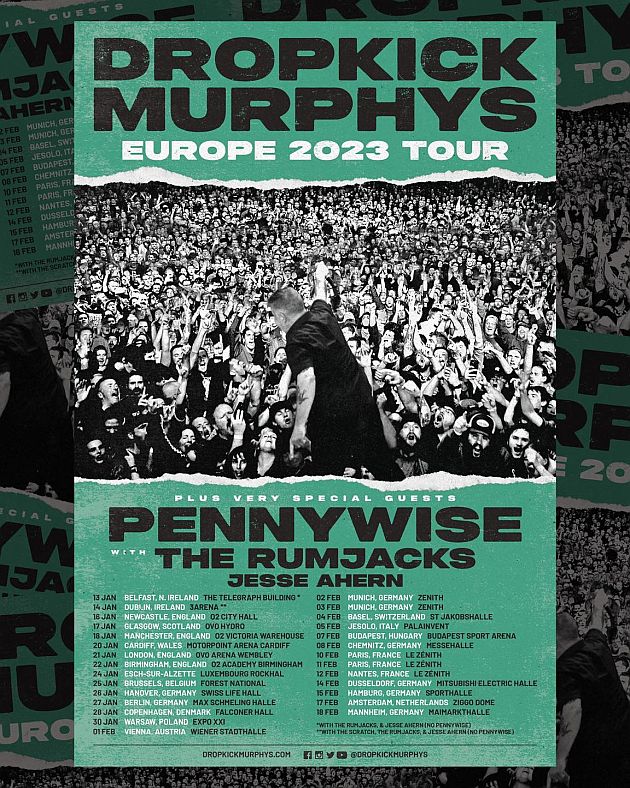 Mitsubishi Electric HALLE, Düsseldorf, Germany
14th February 2023
Dropkick Murphys - Europe 2023 Tour - Very Special Guests: Pennywise, The Rumjacks, Jesse Ahern

The new album by the DROPKICK MURPHYS, 'This Machine Still Kills Fascists', was released at the end of September 2022. With this, the Bostonians quote the battle cry that Woody Guthrie had written on his guitar. In fact, for the first time in their career, the DROPKICK MURPHYS have recorded an acoustic album in the style of the left-wing folk singer. Woody's daughter Nora Guthrie picked out mostly previously unpublished lyrics by her father that she thought fit well in our time and left them for the DROPKICK MURPHYS, who in turn wrote the music for it.
It's a project that has long stirred her heart. The preoccupation with Guthrie is for good reason, as singer and bassist Ken Casey finds: "Woody Guthrie is the original Punk. He went against the grain, he fought a good fight, he spoke up, he sang of what he believes. His priority was not commercial success, his priority was his message and what he believed in." The result is a fantastic tribute to a great singer and upstanding fighter, as well as a powerful statement for our times.
Of course DROPKICK MURPHYS will play a few of these songs when they finally come to Germany again in early 2023, but surely they will also bring some of their old Irish Folk Punk anthems for which they have been known and infamous for over a quarter of a century now to the stage. The guys are incredibly enthusiastic, full of contagious energy, utmost devotion to their loyal fans and play their hearts out.
And they're bringing three great support acts along for the ride: PENNYWISE, the Californian Hardcore legends, have been together almost as long as the DROPKICK MURPHYS and play accordingly tight and loud together, THE RUMJACKS from Sydney play classic Irish folk very racy and rocky and JESSE AHERN combines Americana, Folk, Rock and Rockabilly with clear lyrics and clear announcements. Three more reasons to visit the DROPKICK MURPHYS concerts in early 2023 and to party hard again.
German Tour Dates

26 Jan 2023 - Hanover / Swiss Life Hall
27 Jan 2023 - Berlin / Max Schmeling Halle
02 Feb 2023 - Munich / Zenith
03 Feb 2023 - Munich / Zenith
08 Feb 2023 - Chemnitz / Messehalle
14 Feb 2023 - Düsseldorf / Mitsubishi Electric Halle
15 Feb 2023 - Hamburg / Sporthalle
18 Feb 2023 - Mannheim / Maimarkthalle
Additional Concert Info

Doors: 18:00
Start: 19:30
Tickets: 52.05 € (+ charges/shipping) via
Eventim
Info: https://prime-entertainment.de/veranstaltung/dropkick-murphys-3/
See also (all categories):