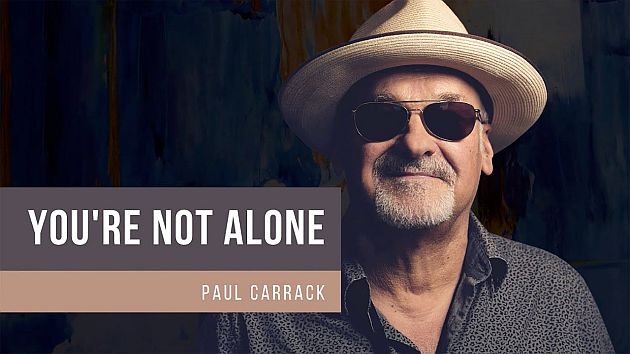 PAUL CARRACK, the former singer of the band MIKE & THE MECHANICS, will return in 2023 for exclusive shows in Germany, much to the delight of his fans. "The man with the golden voice", as CARRACK was described in the BBC TV documentary about his life, has pulled out all the stops with the album 'These Days'. Joining PAUL CARRACK on keyboards and guitar, the poignant and performance-based set features an incredible line-up: Jeremy Meek, Carrack's vastly experienced colleague on bass; Robbie McIntosh on lead guitar, who has worked with Paul McCartney, THE PRETENDERS, Norah Jones and John Mayer on stage and in the studio, and Steve Gadd on drums, who is considered one of the top musicians in the world.
The last release 'one on one' has a special meaning for him. CARRACK not only wrote his songs, but also played and recorded everything himself. He himself said: "Most of the time I take the opinions of others too much to heart. I think it's good that I followed my instincts. That gave the album a unique touch." The sound of 'one on one' is very lively, which is all the more impressive considering that CARRACK worked completely alone most of the time.
PAUL CARRACK's remarkable history also includes his time with well-known bands such as ACE, SQUEEZE and MIKE + THE MECHANICS. He lent his unmistakable voice to hits like 'Silent Running', 'Tempted', 'The Living Years' and 'Over My Shoulders'. Over the years he has been in demand both as a singer and as an instrumentalist with major artists including Elton John, THE EAGLES, Diana Ross and ROXY MUSIC. In 2013, PAUL CARRACK was personally selected by Eric Clapton to be one of his band members and continues to honour that role. One day he would like to record another country album, but for now he's excited about what's to come.
German Tour Dates
Oct 24, 2023 - Kassel, Kongress Palais
Oct 25, 2023 - Offenbach am Main, Capitol
Oct 27, 2023 - Munich, TonHalle
Oct 28, 2023 - Nuremberg, Meistersingerhalle
Oct 29, 2023 - Paderborn, PaderHalle
Oct 31, 2023 - Düsseldorf, Savoy Theater
Nov 1, 2023 - Bochum, Christuskirche
Nov 2, 2023 - Hamburg, Friedrich-Ebert-Halle
Nov 4, 2023 - Berlin, Passionskirche
Nov 5, 2023 - Leipzig, Haus Leipzig
Nov 6, 2023 - Wolfsburg, CongressPark Wolfsburg
Tickets:
https://tidd.ly/3iogHre
See also (all categories):