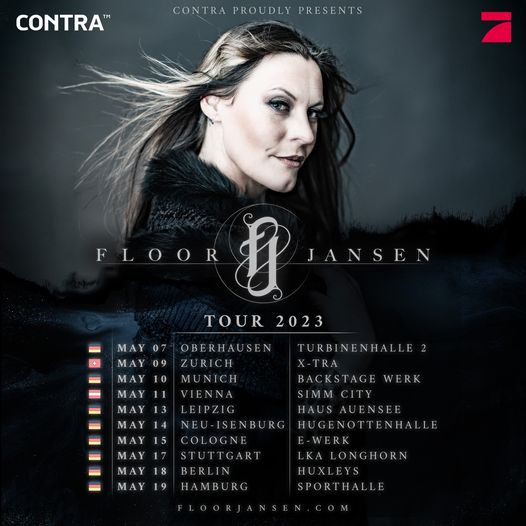 Haus Auensee, Leipzig, Germany
13th May 2023
Floor Jansen - Tour 2023

She started her career with AFTER FOREVER, one of the very first Symphonic Metal bands, before eventually becoming the preeminent frontwoman for Finnish multi-platinum sellers NIGHTWISH. Today Floor Jansen enjoys a reputation as one of the best singers in the world. In this respect, it is not surprising that her forthcoming solo album, half a year before its release, is already making waves.


At the latest with her outstanding performances on "Sing meinen Song", FLOOR JANSEN made it into the Rock Olympus and is one of the most exciting protagonists in the Rock circus. Her interpretations of the hits by SDP, CLUESO, ELIF and others caused goosebumps and made it clear that there is hardly a better singer at the moment. There is absolutely no doubt that FLOOR JANSEN will take the Rock and Pop world by storm with her inimitable vocals, aura and her solo album 'Paragon', due out in March 2023.

FLOOR JANSEN is very happy to be able to present this fantastic album live: "After many requests I am happy to announce that I will start touring outside of the Netherlands in 2023! I am proud to work with Contra Promotion on these international shows. A team I have successfully collaborated with for man."

Additional Concert Info
Doors: 19:00
Start: 20:00
Tickets: can be bought for 48.02 + charges (pre-sale) via Eventim
Info: https://haus-auensee-leipzig.de/floor-jansen
Band: https://www.floorjansen.com
Facebook Event: https://www.facebook.com/events/533046855212011


See also (all categories):