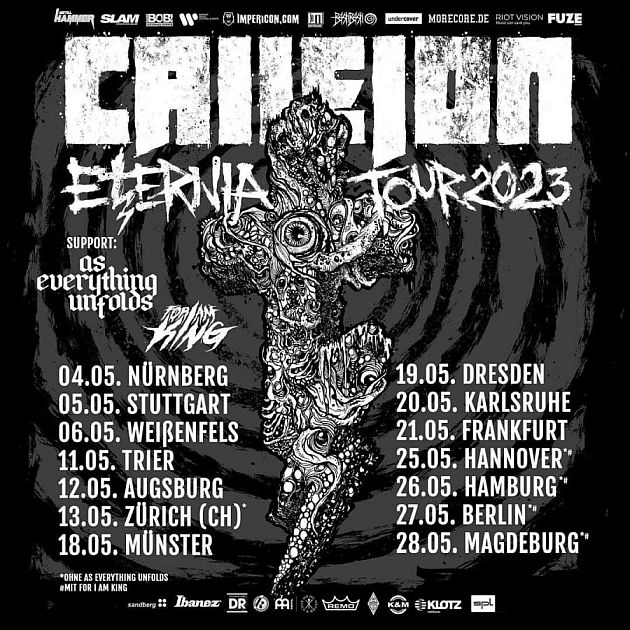 Reithalle Strasse E, Dresden, Germany
19th May 2023
Callejon - "Eternia Tour 2023" - Support: As Everything Unfolds and The Oklahoma Kid

They are the pioneers of German-speaking Metalcore and are known for haunting lyrics and strong melodies. CALLEJON will be going on "Eternia Tour 2023" with what is now their 10th studio album. It was a special year for CALLEJON: Founded in 2002 by singer Bastian "BastiBasti" Sobtzick and guitarist Bernhard "Action" Horn, the band celebrated their 20th anniversary and also released their tenth studio album, 'Eternia'. A double anniversary that means one thing in particular: double reason to celebrate.


Last year, CALLEJON and their fans really rocked it - at the anniversary concert on December 17th in their hometown of Düsseldorf. But that's not all. After more than three years of touring abstinence, they finally get back on the tour bus in 2023 to make the clubs of the republic tremble. A total of 14 stops are planned - in addition to Nuremberg, Stuttgart, Weißenfels, Trier, Augsburg, Münster, Dresden, Karlsruhe, Frankfurt/Main, Hanover, Hamburg, Berlin and Magdeburg, there is also a detour to Switzerland, more precisely Zurich, on the tour plan.

As part of their festival appearances in the summer, it became clear that the five are still keen to be on stage. So, in good old CALLEJON fashion, it's going to be loud, dark and sweaty. "We look forward to finally seeing you again after all this shit and going crazy with you. See you in the mosh pit!"

Additional Concert Info
Doors: 19:00
Start: 20:00
Tickets: can be bought for 40.25 + charges (pre-sale) via Eventim
Info: https://strasse-e.de/termine.php
Bands: https://www.callejon.de / https://www.aseverythingunfolds.com / https://theoklahomakidapparel.bigcartel.com
Facebook Event: https://www.facebook.com/events/842143640463076


See also (all categories):