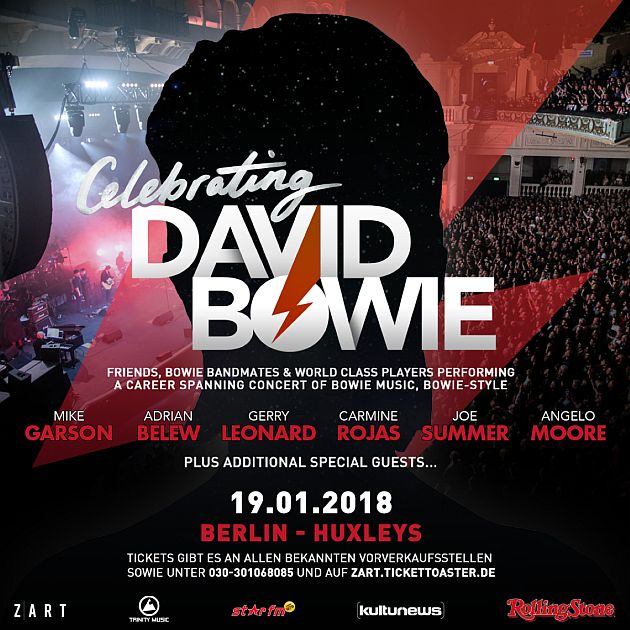 "The shows had a magic because our intent was to celebrate David with as much love and respect as we could. So many lovely artists from all around the globe contributed and I loved all seven shows as each musician and artist brought their own way of self-expression."
– Mike Garson, 2017
With critically and audience-acclaimed shows earlier this year, "Celebrating David Bowie" returns to the stage in 2018 with a tour through Europe and North America. With them, they have a brand new show centered around the question, "What would David Bowie's Tour Setlist look like in 2018?", "Celebrating David Bowie" sees itself as more than a mere homage to this very special musician.
"Celebrating David Bowie" keeps his music alive. Musicians, David Bowie has worked closely with over the course of his career and musicians who have been heavily influenced by him, are on stage together performing his songs. Angelo Bundini, creator and producer of 'Celebrating David Bowie' is also back and looks forward to the new concept of the show:
"After the last tour, I didn't really imagine playing more shows because it was insanely difficult to pull off. David's last tour was in 2004, so I began to wonder what he might do if he were to tour again today. That's what we're presenting in 2018."
The large, changing ensemble, consisting of world-class multi-instrumentalists, will stage a show that will focus on all the elements that influenced Bowie, and which he also influenced in return: experimental pop culture, art, fashion, science, and futurism. Previous special guests were among others: Sting, Gary Oldman, Seal, Perry Farrell, The B-52's' Kate Pierson, Ewan McGregor, Simon Le Bon, Gavin Rossdale, La Roux, JoeElliott, Mr Hudson, Gail Ann Dorsey, Spandau Ballet's Steve Norman, Corey Taylor, Ian Astbury, Darren Criss, Tony Hadley, Living Colour, The London Community Gospel Choir and The Harlem Gospel Choir.
Today, we are giving away 1x2 tickets for the show on 19th January 2018 in Berlin. If you wanna take part in the raffle, please send an email with YOUR FULL NAME until 31st December 2017 with the headline "Bowie" to
This email address is being protected from spambots. You need JavaScript enabled to view it..
Good luck!
Additional Concert Info

Date: Friday, 19th January 2018
Venue: Huxleys Neue Welt, Berlin
Doors: 19:00
Start: 20:00
Tickets: are available from 39.20 € (plus fees)
HERE
and via
TICKETMASTER
Info: https://trinitymusic.de/events/berlin/celebrating-david-bowie