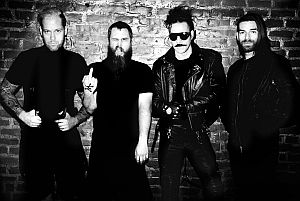 3TEETH are pure aggression. No wonder that TOOL, PRIMUS and RAMMSTEIN have all personally invited them on tour. HO99O9 are such admirers that they even recorded a single together. Founded in 2013, singer Alexis Mincolla, guitarist Chase Brawner, keyboarder Xavier Swafford and drummer Andrew Means very quickly established themselves as one of metal's most distinctive industrial projects.
Their (occasionally) disturbing music and their artfully twisted videos are full of cynical humour and biting comments that reflect their take on American society. Inspired by bands like MINISTRY and NINE INCH NAILS, 3TEETH have developed a powerful stage show. Their brutal sound and the wild performances of charismatic front man Mincolla, supported by fantastic visuals, leads to the regulated chaos that triggers in the listener either a catharsis or at least carries them deep into the mosh pit. Last year, the Californians released their 3rd album '<shutdown.exe>'.
3TEETH will bring their live show to us in May. The concerts will be presented by Sonic Seducer and Reflections of Darkness:
16.05.2018 - Bochum / Matrix
17.05.2018 - Hamburg / Logo
18.05.2018 - Berlin / Musik & Frieden
20.05.2018 - Cologne / MTC
Tickets for all shows are available for 15 euros plus charges (pre-sale) via all known CTSpre-sale offices, via hotline +49 (0) 1806 – 853653, via fkpscorpio.com and
Eventim
.
Today, we are giving away 1x2 tickets for one concert of the tour. If you wanna take part in the raffle, please send an email with YOUR FULL NAME and the CITY you want to go to until 6th May 2018 with the headline "3Teeth" to
This email address is being protected from spambots. You need JavaScript enabled to view it..
Good luck!
More on
3Teeth