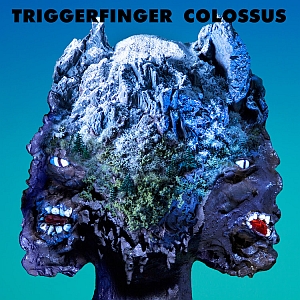 Belgian giants TRIGGERFINGER announce new album 'Colossus'. 'Colossus', which includes the strutting new single 'Flesh Tight', offers killer guitar riffs, breezy melodies, festive glam rock in a mind-bending production, turning this album into a wild ride on a merry-go-round in Disneyland after dark.
Watch the brand new video for 'Flesh Tight' here:
The Antwerp, Belgium based trio (Ruben Block, vocals & guitar; Paul Van Bruystegem, bass; Mario Goossens, drums) have built a solid reputation across Europe, the US and Canada as one of the hardest-driving and sharpest dressing bands around. With their self-titled debut album (2004), 'What Grabs Ya' (2008), 'All This Dancing Around' (2010) and 'By Absence of the Sun' (2014) they've become a mainstay on the rock scene (the last two going platinum and gold, respectively). Their impromptu cover of the Lykke Li song 'I Follow Rivers' became a major hit across Europe in 2012, and they were invited to open for The Rolling Stones in 2013 and 2014.
After four studio albums and the massive touring that came with it, it was time for a change. While writing 'Colossus' TRIGGERFINGER wanted to add a few new flavors to the mix.
"We wanted to get out of the rat race for a while",
Ruben Block admits. "
The first step was doing a few collaborations with other musicians that would kick us out of our comfort zone. It made us look at our songs in a different way. The second step was building our own little studio where we could work and wail 24/7. All amps on 10 at two in the morning? No problem! But there was more to it than sheer volume. The previous albums were all built on roaring energy and the live interaction between the three of us. That was not our main concern anymore. This time the song would be king. 'Anything goes', that was our motto. Acoustic instruments, samples, keyboards, percussion, two bass guitars: as long as they served the song, we were happy.
"
'Colossus' was the first song where the band worked with two basses. Block:
"Ditching the guitar really opened up the groove, and the combination of two bass guitars was very intriguing, sonically. It was heavy, but fresh at the same time. Images and pieces of conversations flashed through my mind, like a collage, and over this monumental groove I began to chant: 'Colossus! Colossus!' It stuck."
By now the question was, who could mold al this material into a new Triggerfinger album? Ever since the early nineties two names had popped up regularly on some of their favorite records. Producer Mitchell Froom and engineer Tchad Blake are arguably the most idiosyncratic duo in the record industry. As a team and separately they've worked with the likes of Los Lobos, Elvis Costello, Paul McCartney, Bonnie Raitt, Richard Thompson, Tom Waits, Arctic Monkeys, The Black Keys, U2, and Pearl Jam.
After meeting with Mitchell Froom in June of 2016 the band set up camp in Froom's home studio in Santa Monica for six weeks, and they hit it off instantly. The subdued producer quickly became a fourth band member, adding eerie sounds coaxed from his collection of vintage keyboards. Los Lobos' saxophone giant Steve Berlin added his mojo on three tracks. And to top it off Tchad Blake took the recordings on a sonic ride through the backstreets of Los Angeles.
"This must be the boldest thing we've ever done",
Ruben Block says.
"We've been fans of Mitchell Froom's work for a long time, but working with your heroes can be a dangerous thing. Mitchell proved to be comforting and challenging at the same time. He opened so many doors for us, and with COLOSSUS he put us on track for the next few years."
Mitchell Froom:
"After meeting the band and spending a few days going over ideas, I had no reservations about collaborating with them. In fact, I felt very lucky to be asked. This was, for me, a rare situation – a great band who really were looking to open things up a bit, and they came in with a lot of compelling ideas to back it up. It was also very clear that all of the focus was going to be on the music – no ego issues. And we could have a lot of laughs. As a producer I couldn't have asked for a better situation."
'Colossus' will be released on August 25th, and will be TRIGGERFINGER's first album with new label Mascot Records/Mascot Label Group. Available formats: LP+MP3, LP+MP3 Color Ltd, CD and Digital.
Tracklist
01. Colossus
02. Flesh Tight
03. Candy Killer
04. Upstairs Box
05. Afterglow
06. Breathlessness
07. That'll Be The Day
08. Bring Me Back A Live Wild One
09. Steady Me
10. Wollensak Walk
Tour dates Triggerfinger (more European dates to be announced soon)
23-Jun Download Festival Madrid ES w/System of a Down, Mastodon, The Cult, Opeth, etc.
18-Aug Open Air Gampel Gampel CH w/Die Toten Hosen, Wolfmother, Seasick Steve, The Pretty Reckless, etc.
25-Aug Rock For Churchill Vroutek CZ w/Irie Révoltés, Ky-Mani Marley, Tata Bojs, J.A.R., etc.
2-Sep Tuckerville Enschede NL w/The Common Linnets, Racoon, Douwe Bob, Daniel Romano, etc.
18-Nov Helldorado Eindhoven NL w/Orange Goblin, Birth of Joy, Tigre Blanco, etc.
25-Nov Elysée Montmartre Paris FR
More on
Triggerfinger
Source: Press Release