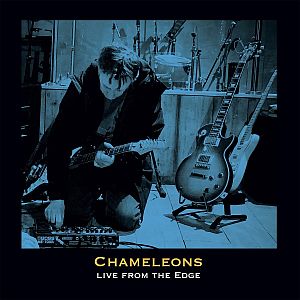 Metropolis Records is thrilled to welcome the legendary UK Post-Punk act CHAMELEONS to its label roster. Long cited as a hugely influential act, having inspired the likes of (The) VERVE, OASIS, INTERPOL, THE KILLERS and EDITORS, the group was formed in Manchester in 1981 and comprised vocalist / bassist Mark Burgess, guitarists Reg Smithies and Dave Fielding, plus drummer John Lever. They released three classic albums - 'Script of the Bridge' (1983), 'What Does Anything Mean? Basically?' (1985) and 'Strange Times' (1986) - before breaking up.
More than a decade passed as each member of the group worked on separate musical projects, until the dawning of the new millennium finally saw the quartet reunite for a set of successful UK shows in May 2000 that were followed by dates in mainland Europe and the US. The acoustic album 'Strip' was released to coincide with these, while a fourth studio album entitled 'Why Call It Anything?' was issued the following year that The Encyclopaedia of Popular Music stated was "a stunning reaffirmation of the brilliance of this unsung band."
2002 saw the release of 'This Never Ending Now', another acoustic rendering of songs from their back catalogue, with an additional cover of DAVID BOWIE's 'Moonage Daydream', before they once again disbanded in 2003. Burgess eventually reunited with Lever as CHAMELEONS VOX, performing and touring CHAMELEONS material in the UK, mainland Europe and the US between 2009-2014 and releasing one EP just prior to Lever's departure at the end of 2013. Lever died in 2017. Another line-up centred around Burgess (accompanied by Yves Altana, Neil Dwerryhouse and Chris Oliver) saw him tour more regularly than at any point in his career prior to the pandemic, including shows in Australia and China as well as regular strongholds such as the UK, mainland Europe and North America.
CHAMELEONS have now joined forces with Metropolis Records to release 'Edge Sessions (Live From The Edge)', a collection of seven classic Chameleons songs performed live in May 2021 by founding group members Burgess and Smithies, plus Chris Oliver (guitar) and Stephen Rice (drums). Three additional bonus tracks OF CHAMELEONS VOX era live recordings round out this stunning release. 2022 has already seen the group perform well received shows around the UK, with more dates to follow. They will also tour Europe and the US.
Album: LP / CD / digital out 15.04.22 via Metropolis Records
pre-order link: chameleonsuk.bandcamp.com/album/edge-sessions-live-from-the-edge

Tracklist
01. A Person Isn't Safe Anywhere These Days
02. Return Of The Roughnecks
03. Up The Down Escalator
04. Anyone Alive
05. Soul In Isolation
06. Singing Rule Britannia (As The Walls Close In)
07. Second Skin
08. Sycophants
09. Heaven
10. Ever After


chameleonsmark.com / facebook.com/Chameleonsvox
Source: Press Release