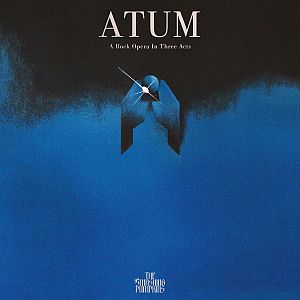 The Smashing Pumpkins
Atum - A Rock Opera In Three Acts
Label: Martha's Music / Thirty Tigers
Distribution: Membran
Release Date: 5th May 2023
Along with the news of their upcoming tour a few weeks ago, the eagerly awaited third and final act of 'Atum' is out today. Act 3 will be released as a special edition box set containing all 33 tracks from the album plus 10 additional unreleased songs. 'Atum' contains 33 tracks in 3 acts and is the follow-up to 1995's 'Mellon Collie and the Infinite Sadness' and 2000's 'Machina / The Machines of God'. 'Atum' was written and produced by Corgan over the past 4 years.
THE SMASHING PUMPKINS recently announced their 26-day "The World Is A Vampire Tour" in North America. Produced by Live Nation, the tour kicks off Friday, July 28 at the Chelsea at the Cosmopolitan in Las Vegas. The tour will feature special guests INTERPOL, STONE TEMPLE PILOTS and RIVAL SONS, as well as some of the world's greatest champions from the National Wrestling Alliance (NWA), who will compete in most cities. "The World Is A Vampire Tour" has already sold out shows to over 30,000 people in Mexico City this year and cities in Australia this spring and will expand to more countries in the future. For more information, visit: https://smashingpumpkins.com/tour/
Additionally, Corgan's popular Thirty-Three with William Patrick Corgan podcast series continues to quench the thirst of die-hard Pumpkins fans around the world, offering listeners a chance to hear previously unreleased 'Atum' tracks and engage with various aspects of the band's illustrious history too busy. Thirty-Three with William Patrick Corgan is distributed by iHeartPodcasts and is available on iHeartRadio and wherever podcasts are listened to. To learn more, click here: https://link.chtbl.com/thirtythreepodcast
When THE SMASHING PUMPKINS hit Chicago in 1988, the world had never heard a band like them. They fused rock, pop, shoe-gaze, metal, gothic, psychedelia and electronica into a kaleidoscope of sugary melodies, distorted guitars, bombastic orchestration, eloquent song technique and unwavering hooks. When they formed, their sound was different, iconoclastic and entirely new - and it still is today. As a result, they have sold over 30 million albums worldwide and won two GRAMMY® Awards, two MTV VMAs and an American Music Award.
Their catalogue includes the platinum album 'Gish' [1991], the quadruple platinum album 'Siamese Dream' [1993], the Diamond Award album 'Mellon Collie and the Infinite Sadness' [1995], the platinum album 'Adore' [1998] and the gold album 'Machina / The Machines of God' [2000]. In 2018 they embarked on one of their most successful tours ever, the "Shiny and Oh So Bright Tour", followed by "Shiny And Oh So Bright, Vol. 1 / Lp: No Past. No Future. No Sun". Meanwhile, 2020 saw the release of the band's eleventh album and latest double album, 'CYR'. THE SMASHING PUMPKINS are as productive as ever.
Source: Press Release