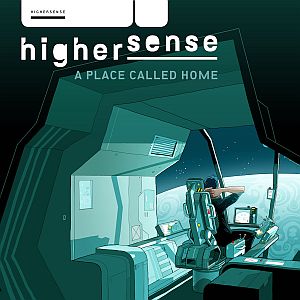 At home - a term charged with the most diverse emotional polarities, which probably every person interprets in their own personal way. But what exactly defines this somehow almost intangible place of longing? And more importantly, where is this place? The Cologne singer and multi-instrumentalist Daniel Schmidt has dedicated himself to the big existential questions in life, which he tries to answer through his alternative pop project HIGHERSENSE. A search for the higher meaning, which he now continues on his new album 'A Place Called Home'.
For Daniel Schmidt, his music is a perfect tool for processing everything that moves him. An exciting journey to himself, on which he has developed into one of the best-kept insider tips within the German alternative pop scene with his solo project HIGHERSENSE. Inspired by his fascination for bands like ALPHAVILLE, ERASURE, CAMOUFLAGE and DEPECHE MODE, he founded the HIGHERSENSE project in 2009 and subsequently won the WDR 2 young talent competition "Musikszene NRW" three times in a row. In 2017 he self-released the highly acclaimed debut album 'Half Way Between', which brings HIGHERSENSE national fame for the first time. A debut success that Schmidt seamlessly followed with his 'Signals' EP, released in 2020, with which he presented an early harbinger of his second album 'A Place Called Home'.
HIGHERSENSE combine selected 80s borrowings with modern alt-pop beats, organic instruments and melancholic vocals to create an independent and immediately recognizable mix. An energetic as well as emotional hybrid style of danceability, lots of atmosphere and an unmistakable sense for harmonies that gets under your skin, which can also be found on the new album 'A Place Called Home'. "In the songs I channel everything that occupies me or touches me in some way," explains Daniel Schmidt. "Music allows me to question certain things and, ideally, to understand them better. On my debut I was still in the discovery phase; I've experimented a lot in different directions over the last few years. I think I found my sound on the new long player."
'A Place Called Home' is Daniel Schmidt's very personal logbook of his search for meaning, as he also demonstrates with the opulently arranged 'Welcome To Our Lives', the dramatic 'Untouchable', the touching ballad 'Love' or the gripping catchy tune 'Stood'. "In fact, the genesis of the new album goes way back before my debut," says Schmidt. "The work on the new songs was repeatedly interrupted by various unforeseeable events. A lot has happened in my life in the last few years. A very difficult, challenging phase that almost broke me. These adventures and experiences can be found in the texts today. The pieces are my way of dealing with all these impressions and classifying everything. It took me quite a while to get back on my feet and find the right words. An important insight from this is to never let yourself down and to keep getting up. Even if it hurts and you don't know exactly where the path is leading you. One must not give up hope. In spite of everything."
HIGHERSENSE will release 'A Place Called Home' on 26th May 2023 via Plattenfirma To Go.
Website: https://www.highersense.de
Facebook: https://www.facebook.com/Highersense
Instagram: https://www.instagram.com/highersense/
Source: Press Release