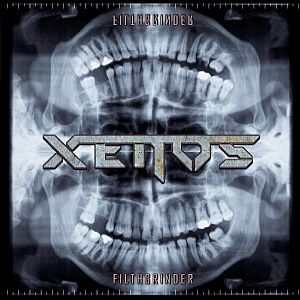 Artist: Xenos
Title: Filthgrinder
Genre: Thrash Metal
Release Date: 24th January 2020
Label: Club Inferno Ent.
Review Flash

Tonight in my Heavy Metal slaughterhouse: XENOS from Agrigento, Sicily. And again I will enlighten you, my dear readers, with the bands press text: "XENOS was born at the end of 2018 and is the product of the mind of Ignazio Nicastro, bassist with the well-known Post Thrashers EVERSIN. The band is dedicated to a pure form of Thrash Metal, clearly inspired by MEGADETH, XENTRIX, ANNIHILATOR and SLAYER without forgetting a strong dose of personality in every single composition. Guitar riffs cutting like razors played by the ultra-talented guitarist Giuseppe Taormina, killer solos, a hammering and devastating drums by Danilo Ficicchia (EVERSIN) a pulsing boneshaking bass and a vitriol voice is what you will have listening to XENOS. No compromises, no fashions, no bullshits, just Thrash Metal at all."
These guys sound like SLAYER if Tom Araya had an audible accent, it is a bit monotonous but if you are into bands like SLAYER or SUICIDAL ANGELS (tough, fast but samey) you will have to check this out it is after all 100% old-school Thrash Metal.
Conclusion: It is retro Thrash and it feels authentic but I miss the hits and the hooks.
Rating: 7 / 10