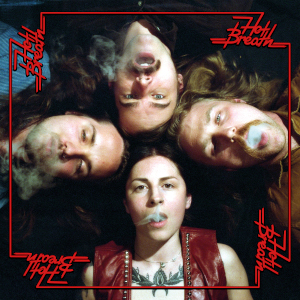 Artist: Hot Breath
Title: Hot Breath
Genre: High Energy Rock and Roll
Release Date: 18th October 2019
Label: The Sign Records
Review Flash

It took a little time for me to get interested in HOT BREATH but sometimes I cannot escape the lucky circumstance that some people are all too clear in rubbing your nose into it until you realize that it's good stuff. As usual I let the press text speak first and comment on it and the band/music etc. later:
"That fresh minty taste won't keep this HOT BREATH away! This hard beating Rock four-piece from Gothenburg (Sweden) will run face-first through your bedroom door. HOT BREATH is your after party that never stops. The soundtrack of the last drink sip that never ends. The one that breaks your mirror and will dance with you through the night - like stray cats covered in glitter. HOT BREATH's self-titled debut EP was released in October 2019 via The Sign Records. A well acclaimed 6 track K.O filled with pure lust and high energy Rock'n'Roll. A dirty joyride of powerful vocals and sweaty grooves. Formed in October 2018 (with members from HONEYMOON DISEASE, HYPNOS and GRAND) the band wanted to mix their various pasts into one vibrating sound. With a common ground of heavy rock HOT BREATH quickly took shape and turned into a wicked animal that will twist your hips from the stage!"
Well, well, well... this is really nice. The press text does not strive to far from reality, HOT BREATH is fresh, cocky high octane Rock and Roll! Most of the time I think of a female-fronted HELICOPTERS kind of band. Jenna's voice is rich and powerful and paired with her bad ass guitar sound it is a power package, Karl's guitar combined with Jenna's six-string is a real thick and groovy experience, drums and bass form the parquet, driving and structuring the overall compositions.
Conclusion: If you like groovy heavy rock, well played and authentic. Check out HOT BREATH
Rating: 8 / 10