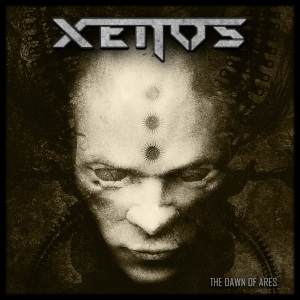 Artist: Xenos
Title: The Dawn Of Ares
Genre: Thrash Metal
Release Date: 25th June 2021
Label: Iron Shield Records
Review Flash

It was before the crisis, the pandemic, the war in Ukraine when I reviewed the full-length debut of Sicilian Thrashers XENOS, the predecessor of 'The Dawn Of Ares' so to say, and 'Filthgrinder' scored a 7 / 10 in this year that feels like it was decades ago. I compared their sound to SLAYER and SUICIDAL ANGELS and I still stand by these comparisons but I will indulge a bit more if I may.
The sound on 'The Dawn Of Ares' is more complex as most of SLAYER's trademark sound, there is audible bass that even gets some room for creatively fucking around, there are chord progressions here and there and the tracks are not as straight forward as the typical stuff Tom Araya and his mates played back in the day. I would not say I like it more than that good old SLAYER stuff (that would be blasphemous) but I like the emancipation from Tom and Kerry's sound and the complexity that is added to that kind of Thrash sound, this is showing me as the listener what is still possible in that field when not straying too far from old-school Thrash Metal. XENOS manage to play classic Thrash with some progressive undertones while still kicking ass left and right. It always helps that the guys sound pissed and authentic while being skilled musicians with well executed and thought out material.
Conclusion: With SLAYER gone since 2019 it is good to know that we have bands like XENOS that keep their sound alive and in their case they do it without sacrificing their own identity.
Rating: 9 / 10