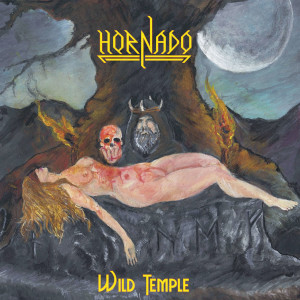 Artist: Hornado
Title: Wild Temple
Genre: Heavy Metal
Release Date: 4th March 2016
Label: Self-Released
Review Flash

Good evening ladies and gentlemen, this is Part II of my three-part review session of HORNADO. In the second part I will consecrate myself to the first full-length 'Wild Temple' and yes, I review the discography in a chronological way but in reverse, why? Because I can! Fun Fact: 'Wild Temple' was a success big enough for the band to be able to produce the follow-up 'Supersonic Punch'.
Moe Rider, bassist joined the band shortly before the release of 'Wild Temple' because his predecessor Krass had no time for the band any more (according to the band). The second full-length of HORNADO is a bit less wild in direct comparison to 'Supersonic Punch', a bit more mid-tempo and less high screams but I like it very much because I think that is where Dave's voice really sits (he can hit the high notes but the mids feel more organic) the sound is pleasantly warm and rough, I like the rough diamonds the best. It is hard to point out a favourite song as catchiness ain't the main goal in HORNADOS compositions but 'Call of the Beast' really rips.
Conclusion: Steel, Leather, Denim and Beer are the stuff of heavy metal legends and the stuff you can almost smell while listening to HORNADO, check it out!
Rating: 8 / 10