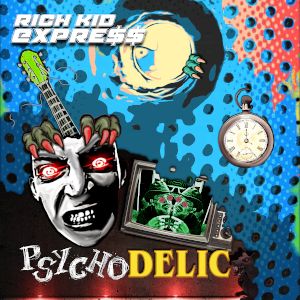 Artist: Rich Kid Express
Title: Psychodelic
Genre: Hard Rock
Release Date: 30th October 2020
Label: Squib Kick Records
Review Flash

Before I got into writing I had no idea how many multi-instrumentalists are out there, I only knew people like Jean-Michel Jarre, Arjen Lucassen and Mike Oldfield. Rob Richardson is one of those that like to do things by himself it seems, he played and recorded the guitars, drums, bass, keys and did the vocals. Ron plays Classic Rock with Hard Rock influences in the vein of KISS and AC/DC every now and then there are 70s elements, hailing from the hippie era, incorporated in the more 80s heavy setting which adds a nice touch and makes the music all the more carefree. Richardson's voice is a good fit for the old-school Hard Rock on 'Psychodelic'. Let's check out the press text:
"'Psychodelic' is high energy, melodic Rock with the emphasis upon the songs rather than being a "chops" band, which gives rise to Rob Richardson's vocals and melodies. The provocative songs here kick open the door and it's the full on Rock'n'Roll guitar that finally kicks it down. This set of songs unite the raunch of Hard Rock with consistent melodic undertones that at times, are really quite subtle." I did enjoy listening to RICH KID EXPRE$$ but there is one thing I won't agree with, subtlety. The carefree attitude of this record is the strong point of Rob's music. This is not complex in any way but Rock and Roll does not have to be subtle or overcomplicated, it just needs to rock. By the way: Rob's voice reminds me of a mix of Ace Frehley and Gene Simmons.
Conclusion: Check out 'Clock Strikes Four' - it is a catchy banger, with an element you know of METALLICA's 'For whom the Bell Tolls'.
Rating: 7 / 10