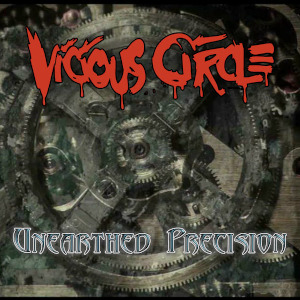 Artist: Vicious Circle
Title: Unearthed Precision
Genre: Death Metal / Thrash Metal
Release Date: 29th May 2020
Label: SubLevel Records
Review Flash

Just six month ago I would have gone anywhere near something so fucking brutal, I guess the times are changing huh? These maniacs have been around since 1989 and what they play is on the border between Thrash and Death Metal. The technicality of all artists involved is rather surprising as I used to see brutality and technicality in direct contrast to each other (I learned that this is actually bullshit). VICIOUS CIRCLE has two LPs, five demos, two EPs and one compilation under their collective bloody bullet belts. I have to admit that I am pretty late to the Extreme Metal Game but I arrived to witness the glorious return of the guys of VICIOUS CIRCLE and their brand of merciless, ripping-your-head-clean-off Thrash / Death so that's not too late at least.
Musically this is like really mean and hilariously fast Thrash Metal but angry and crazy to the maximum. Brian Cook on vocals seems to be unaware of terms like sore throat and such, he screams and shouts as if his larynx is made of steel. The rhythm section consisting of Dave Surran (bass) and Mel Leach (drums) play demonically fast and precise as hell's clockwork while sole six-string Maestro Vinni DiBianca tries to break the sonic barrier with his shredding. This is good violent fun that draws first blood after 45 seconds of song number one 'Killing Culture'.
Conclusion: If you like it rough, dirty and brutal like a kick in the teeth you will love this!
Rating: 8 / 10