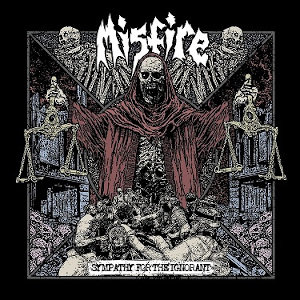 Artist: Misfire
Title: Sympathy For The Ignorant
Genre: Thrash Metal
Release Date: 1st May 2021
Label: self-released
Review Flash

MISFIRE from Chicago, Illinois are: Sean Coogan (bass / vocals), James Nicademus (drums) and Jay Johnson (lead guitar / vocals). James and Jay know each other for quite some time and even played together in DIAMOND PLATE and even got signed by Earache and toured with bands like OVERKILL, DEATH ANGEL, TESTAMENT, MEGADETH and more. After two records in 2011 and 2013 James formed MISFIRE together with Sean in 2018. When they started Tommy Denniger of END OF SANITY was still a part of the band, when Tommy left his job was "inherited" by Jay and the definite Version of MISFIRE was born.
A few weeks ago, I had a nice interview with the guys and man! There is a lot of passion involved here. And that is what it sounds like: rough, aggressive and very old-school. The sound is always bordering between several kinds of violent heavy music. The base is clearly Thrash Metal but there is also a bit of a Hardcore feel here and there and the vocals are somewhat balanced between classic thrash and a more brutal variety that was born when Death Metal came to be. Mood-wise this is always between red hot rage and pitch-black hate. Jay and Sean both sing and they both channel this immense anger and frustration, paired with lyrics that tell tales of social injustices and human toxicity.
Conclusion: If you like the sound of old-school Thrash united with hardcore and some growls here and there this is the release you need!
Rating: 8 / 10