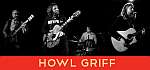 Howl Griff's 'Fragile Diamond' is set to be released October 16th. In order for you to get a bit more of an insight into the album, how it created, crafted and constructed, here's a compilation of lyrics and quotes from guitarist and chief harmony-ladler Gary Parkinson, who's also a celebrated music journalist.


1. You Don't Have to Leave on your Own
From the desperation of the lonely hearts to the desolation of the lonesome nights out. Towering chorus tells you it needn't be that way. Need it?
Sample lyric:"'You've gotta love animals,' she said, 'You gotta love 'em all.'"
Gary: "As soon as we started playing this live, people loved it – and I particularly love Griff's guitar solo. We were determined to do it justice in the studio so poor old Griff sang until his throat bled. Then it sounded really good..."

2. Fragile Diamond
Geology, gemology and a child born years after her father died. Three-part harmonies recorded around one microphone, as they should be.
Sample Lyric:"Shining undermining, lift the silver lining running through her opal veins / Searching through the rubble, push will come to shovel, finding the last remains."
Gary: "A melody this good deserved excellent lyrics, hence the Betjemanic rhyming scheme. Griff and I hammered out the first verse, then Nick came up with the second verse about his cousin's baby, born via IVF – a year after her dad died."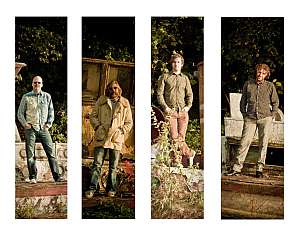 3. Sharkfins in the Sky
Murder on the ice-rink youth-club dancefloor. Related via the medium of new wave disco, with lead vocals handed to Gary while Griff joins the rock-solid rhythm section.
Sampls Lyric:"I don't need a pacifist to tell me that the war's a fight / I don't need a danger sign to tell me that the end is nigh"
Gary: "Coming out of our old rehearsal rooms below an ice rink, we heard a commotion. Turns out it was a murderous one."

4. Revolution Radio
A waltz-time drinkalong. Regulars from our local acoustic night, Hankdog's Easycome, were invited back to join the closing refrain. Some night.
Sample Lyric: "I leave my building each day, fire up my radio / Turn on, tune in, drift away, catch me or let me go"
Gary: "Great fun to record - mandolins, glockenspiels, drunken singalongs. We just imagined we were Eastern Europeans having a great time."

5. Runaround
Surprisingly evasive beat-shifter which includes the words 'smorgasbord' and 'hullaballoo' - surely their first joint billing.
Sample Lyric:"See the girl with the red dress on / Drowning Sailor Jerry all night long?"
Gary: "We nearly had this as the opening track. It changes rhythms quite a lot – I can imagine Mike Chapman getting Blondie to put it on Parallel Lines. There's also a nice gang mentality to the chorus, but still drummer Nick refused to sing. And no, you haven't heard that guitar line before."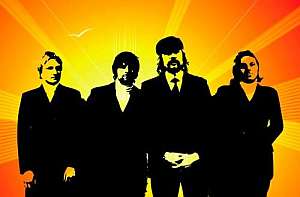 6. Meet My Maker
One day, illness rendered Griff temporarily blind. In the fast lane of the M4.
Sample Lyric:"Highway girl held me up in arms / Stand and deliver, you're safe from harm"
Gary: "I wasn't there for The M4 Incident, but I soon heard about it from quivering bandmates on the hard shoulder. This might be our favourite song on the album - it builds beautifully, and I get to play a very loud guitar solo that goes up through four octaves to the highest note you can play on a Rickenbacker 12-string."

7. Puppet Operation Time
Howl Griff pull the strings on the best song Neil Diamond never wrote. Features a clarinet and backing vocals by 6music-approved chanteuse Emily C Smith.
Sample Lyric:"Marionettes controlled by invisible strings / Don't let them wear you down, don't let them drag you in."
Gary: "The lyrics might sound a bit pessimistic, especially juxtaposed with the jolly music, but taken as a whole they're uplifting. Nice double clarinet-and-guitar line toward the end – very Tubular Bells – and good handclaps in the bridge, too."

8. She Walks on by the Flame
A tale of moths, melted headphones, fists and a fiery woman. She knows her way.
Sample Lyric:"Down corridors holding up a candle / Up in flames and living by her name."
Gary: "You can't say Griff without saying riff, and this enjoyable 70s rock romp is built on a huge guitar figure from the big man: I just added a solo on top. The second verse is purposefully longer than the other two, but nobody seems to notice it."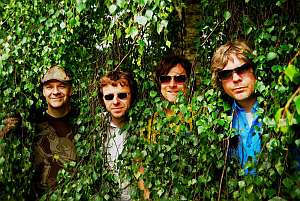 9. Rose of Emily
Campfire singalong named after a small boat, which happens to be owned by drummer Nick Moore.
Sample Lyric:"Strolling, sunset in my stride, walking down the road to roam."
Gary: "Great fun from the off, with Nick's country shuffle, Steve's Farmer John bassline and Griff's Telecaster-telegraph solo. Ace three-part backing vocals, with Griff and Steve bossing the baritone."

10. Füssbükkër
Fearsome Krautrocker featuring vocoder, theremin and a riff you could smash a phonebox with.
Sample Lyric:"Semaphore your message loud to make you stand out from the crowd."
Gary: "Another big change from the preceding track – we like to keep you guessing. Originally called Busfucker."

11. International Dateline
Intensely singable story of Samoa's switch back across the 180-degree divider.
Sample Lyric:"I'm changing my mind and I'm crossing the line / Making the time up to you."
Gary: "Nearly didn't make the album, but I'm glad it did, and not just 'cos I sing the verses. We had the song structure but no real lyrics, then Griff read about the Pacific island of Samoa skipping back over the international date line to realign with Asia rather than America. Make it a bit of a love song - hence "Dateline" - sing three-part harmonies round one microphone, add another unforgettable Griff solo and it was job done."

12. Everything
The riff welcomes you like an old friend; the chorus embraces you like a lover; the lyrics include a reference to Zoroastrian burial mounds.
Sample Lyric:"We gotta move on through the psych zone / Twisted tower of silence that carried us home."
Gary: "This was always gonna be the album closer. Another huge Griff-riff on the windswept verses, then it all comes together for those gorgeous choruses, and I get to play a big guitar solo again. It's something like 15-part harmony at the end, with all three of us giving it the full range."

Full lyrics at: http://www.howlgriff.com/lyrics.html
Stream: http://soundcloud.com/altpr/sets/howl-griff-fragile-diamond/