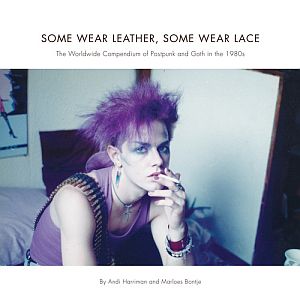 Review of the book 'Some wear Leather, Some Wear Lace: The Worldwide Compendium of Postpunk and Goth in the 1980's' by Andi Harriman & Marloes Bontje - Intellect Ltd / University of Chicago Press, 2014

When I interviewed Oliver Chesler (THE HORRORIST), he told me about Andi Harriman, one of the two authors of this book and the girl with whom he shares a music project called SCHADENFREUDE. He told me Andi was amazing because she is very young and she's completely obsessed by the 80s. I made friends with Andi on the internet and she told me about this book. After a successful Kickstarter campaign, the book was published and Andi was kind enough to have one sent to me. I always find it great when the younger generation is paying tribute to the 'pioneers' from the early years of Postpunk and Goth.
First of all, this book is a wonderful object! It's a coffee table book with fantastic pictures of artists from this period (Siouxsie, Bauhaus, Christian Death,...) but also of unknown people. The text covers all aspects of this seminal movement: clothes, philosophy, music, sociology and most remarkably not only in the UK and the US but also in many other countries like The Netherlands, Japan, Germany, etc.
The tile of the book, 'Some Wear Leather, Some Wear Lace', comes from the first line of the song 'Sexbeat', by the band SEXBEAT. For this book, Andi, who lives in New York, cooperated with Marloes Bontje, a Dutch researcher/ writer. You also find interviews with both the performers and the audience to capture the community on and off stage, the book places personal snapshots alongside professional photography to reveal a unique range of fashions, bands, and scenes.
In a nutshell: this book is a great visual and oral history of the first decade of the postpunk scene. Whether you were part of this community or are just fascinated by different modes of expression, this book will transport you to another time and place.
Available in a selection of book stores and record stores but also online:
Intellect
Book Depository
The University of Chicago Press
Amazon
Barnes and Noble
Contact:
Website
/
Facebook
/
This email address is being protected from spambots. You need JavaScript enabled to view it.