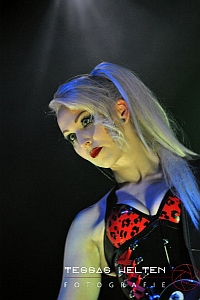 We are really happy to present an interview with this amazing woman today. She is not only rocking the stage with IN STRICT CONFIDENCE and TWO WITCHESs, she is not only a great fire and burlesque performer, she is also the person who is standing behind the fantastic latex cloth label "Savage Wear". I needed to drive 600 km to Berlin to visit HayDee in the Savage Store and do the pictures of her tattoos, but it was all worth it.
Reflections of Darkness [RoD]
: When did you get your first tattoo and what was it? Did it take much time until you decided to get it done?
HayDee
:
I feel a bit ashamed to admit it, but my first tattoo was a tribal on my back in the beginning of 2000. I drew it by myself, so I kind of felt that it was unique. I can't tell anymore how long I was planning to take it.
RoD
: How many tattoos do you have? Could you please tell us their story?
HayDee
:
So now I have only one tattoo, a big phoenix on my back made in 2009, also a cover up for that tribal. I was planning for a long time to get something bigger and I decided to get a phoenix because I also do fire shows and because of the story of phoenix... it was my favourite story when I was a kid and I still love it.
RoD
: Have you already got all the tattoos that you wanted or will you get some new ones in the future?
HayDee
:
I haven't been planning on getting anything new now. I won't say never, but my goal is not getting completely tattooed. At the moment I like having just one thing.
RoD
: Have all your tattoos been done by one tattoo artist or by different ones? How do you choose the tattoo artist? In addition, who draws your sketches?
HayDee
:
For my phoenix I was searching the right tattoo artist. I knew what style it should be drawn, although I didn't have the sketch yet. I can draw, but I wanted to leave the job for someone who is better than me. I found a tattoo artist with a perfect style, I brought her different pictures, I told her which parts I like in every picture and for the next time she got a sketch ready - it was perfect.
RoD
: Getting tattooed hurts, how do you cope with the pain during the sessions?
HayDee
:
I tried just to think about something else. Reading the magazines at the studio, chatting with the artist... Just tried not to concentrate on the pain.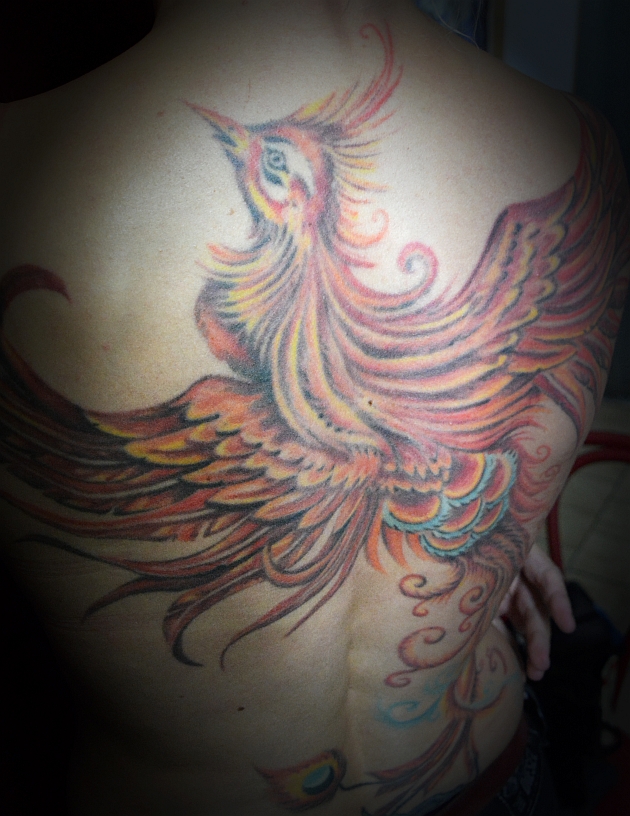 RoD
: Do you regret getting tattooed sometimes?
HayDee
:
I haven't regretted my phoenix, I still like it a lot!
RoD
: What is your taboo in terms of tattoos? What kind of tattoo would you never get done and don't like to see on other people?
HayDee
:
I wouldn't get my neck tattooed on the front or at the side, and I wouldn't get my face tattooed. On someone who's got already lots of tattoos, it fits too, but just getting a big blob of a tattoo at the side of the neck to look "tough", is another thing.
RoD
: Some people say that the drive to acquire body art is addictive while others say it fails to meet the true definition of an addiction, simply calling it a passion. Is it really impossible to stop?
HayDee
:
Well I have stopped for many years now... If I will ever get more, the next one will feel like the first time again. :D
RoD
: Last Year's tattoos are a new trend; many people do not care about the meaning, they just want to have something coloured on the skin, to be in trend. Those people often just go into a tattoo salon and ask which drafts they have. Tattoo artists are not artists any more, they produce consumer goods. Not all of them, of course. How do you feel about this situation?
HayDee
:
The artists are getting paid for the job they do, so I think it's ok. I will make a black latex catsuit too if that's what a customer wants. If someone wants to use tattoos as a fashion jewellery, go for it. But they should let a professional do it, to get at least a pretty jewellery.
RoD
: I would like to talk about the social aspect of tattoos, too. Previously, many people believed that if you have a tattoo, you will be never be successful and will not find a "good" job. Have this state of mind and people's perceptions changed or are these prejudices still alive?
HayDee
:
I cannot really tell, because I have been already thirteen years a professional, self-employed latex fashion designer IRL, so I have not been looking for a job elsewhere. But I have seen tattooed and pierced people working at very conservative places too, so I guess it's not such a thing anymore. At least not in Berlin.
RoD
: Which advice would you give to people who are going to get their first tattoo? How to choose a tattoo artist? Colour or black and white? Any practical advice?
HayDee
:
Have an idea what it should be and which style. If colour or black & white, it doesn't matter... Whatever you like, whatever suits you. Don't take the cheapest, look for the best artist for your chosen style and save the money for that!
Savage wear shop:
www.savage-wear.com
Project by Daria Tessa and Daniela Vorndran, Interview by Daria Tessa
Pictures by Daria Tessa (
https://www.facebook.com/tessaswelten/
)